For the first time in a long time the Animal Shelter of Martha's Vineyard has three adorable small dogs available for adoption with two more due into the shelter in a few days. At the shelter now are Jerry, a sweet brown and tan Chihuahua, who looks and acts a lot younger than his 13 years. He is a little afraid of young children, but he would make a wonderful watch dog and loves to curl up in a warm lap. His friend is Millie, an Italian greyhound/chihuahua mix. Millie comes with a complete set of fancy clothes, even pajamas, which she loves to wear. Millie is white with a few tan spots. It would be nice if they could be adopted together but it is not a requirement for adoption. Our latest addition is a little white Shih-tzu cross who loves people, loves to cuddle and gets along well with cats and other dogs. Her name is Sandy. In a day or so the shelter will be getting two Cairn terriers, brother and sister, who we would love to see go together to a new home.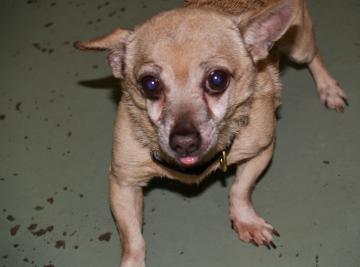 Cats available for adoption are Ben, a big gentle ginger tiger cat who was a stray from Dodger's Hole. If you are missing this wonderful big cat please call the shelter. Freckles and Mario are two adorable pale yellow tiger kittens, full of fun and very playful. They are both males about five months old. We also have two more tiger kittens, about six weeks old, who will be ready to be adopted in a couple of weeks. Brody, our senior resident, is still waiting for a kind angel to adopt him. His adoption fee will be waived if someone will adopt this sweet old gentleman, who, by the way, doesn't care much for dogs and needs to be an indoor cat only because of his age.
The shelter has received word about a little lost dog who was adopted not too long ago. His name was Buddy, but has been changed to Boris. On Jan. 20 he was at Trade Winds when he was spooked by something and took off. He was last seen on Jan. 21 on County Road. He is quite shy and was not able to be caught. His owner asks that if anyone has seen or has taken in this sweet little tan dog with big ears and beautiful golden eyes to call the shelter or your animal control officer.
Shelter hours are Tuesdays and Wednesdays 8:30 a.m. to 2:30 p.m., Thursdays and Fridays 8:30 a.m. to 6:30 p.m. and Saturdays 8:30 a.m. to 4:30 p.m. The shelter is closed Sunday and Monday. The telephone number is 508-627-8662.
Contributions are always gratefully accepted; the shelter is funded solely by donations. Please make checks out to The Animal Shelter of Martha's Vineyard; the mailing address is P.O. Box 1829, Edgartown MA 02539.