A principal from Nauset Regional Middle School was looking for fund-raising ideas for a new greenhouse. School garden coordinators wondered how to keep their plots going during the summer months. A parent spoke about how to create better snack options during school hours.
And they all looked to Island Grown Schools, the Vineyard's farm-to-school network, for answers.
More than 70 educators from across Cape Cod and the Islands gathered at Camp Burgess in Sandwich on Saturday at a farm-to-school network workshop sponsored by the Island initiative. IGS hosted the day-long event where educators shared stories, discussed the challenges of gaining community support and tackling the business side of programming.
The meeting was the first of the newly-formed Cape and Islands Farm to School Network, spearheaded by IGS.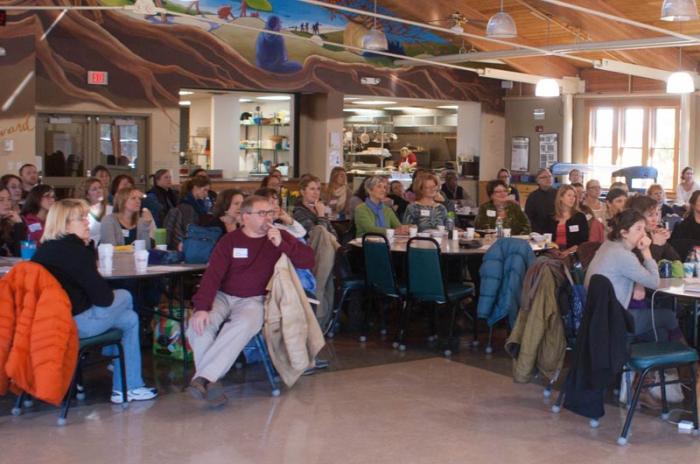 "The reason we wanted to bring everyone together is because at IGS we've been getting requests for support from people across the Cape," IGS director Noli Taylor said. "Movements are always stronger when everyone knows one another and can share resources."
Attendees identified several areas
they would like to focus on in the future. Goals include establishing a school garden mentorship program to pair up longtime gardeners with novices, with an eye toward enhancing the connection to the school cafeteria; organizing a skills training day for cafeteria directors, farmers and parents; and sharing curriculum resources.
Massachusetts department of agricultural resources commissioner Greg Watson spent the morning with the farm-to-school educators, and said he was impressed with the enthusiasm generated at the conference. Mr. Watson visited the Vineyard last August and called the Island farm system a state model.
"I am amazed. I had no idea," he said. "The stories are great. This is how it happens — from the ground up."
Begun in 2007, Island Grown Schools is one of six programs run by Island Grown Initiative, the nonprofit formed in 2005 to promote local food and sustainable agricultural on the Vineyard. IGS now includes
11 schools (including preschools) and 2,300 students , with a total of 11 school gardens, three greenhouses and four after-school programs. Around 12,000 pounds of vegetables have been gleaned from local farms that were provided free to the schools.
This year IGS became the first network in the commonwealth to begin a Harvest of the Month program, highlighting different vegetables or meat locally sourced for school cafeterias and markets.
Judy Vollmer, longtime educator at the Barnstable 4-H Club, said the large turnout on Saturday reflected a shift in culture.
"It is thrilling to see this," she said, adding when she began working with the 4-H program nearly 40 years ago, "it wasn't cool" but "now it's come full swing."
Creighton Peet, the chef at the Waldorf School of Cape Cod, said what began as an "uphill battle" has turned into "full support of the community and is a great success."
Mr. Peet said he wants to expand the school garden and bring more food into the kitchen and classrooms. He's also hoping to build a hoop house.
In between idea sharing, food took center stage. The egg salad was made with Camp Burgess eggs; chicken chili was made with Good Farm chickens from the Vineyard; and the butternut squash soup was made with vegetables provided by Dickie Brown of Edgartown. Dave's Cape Cod Smokehouse offered samples of cod cakes, scallop cakes and gluten-free fish cakes to highlight local fish in lunch programs. The market works with schools in and around Harwich to bring fish into school cafeterias.
"Teachers are the easy part," one teacher said over lunch, adding that the challenge comes with incorporating the gardens into their curriculums.
"Some teachers don't have gardening experience. It's not that they're unwilling; it's just that they don't know what to do," a teacher from the Mullen Hall School in Falmouth said. "It's a new way of thinking about things and figuring out ways how to bring them into the curriculum."
In the afternoon, Mrs. Taylor led a workshop with Deb Habib, founder of Seeds of Solidarity, a teaching farm in Orange. Together the two discussed creating a sustainable organization through funding, staffing and volunteers.
"Getting started and having that beginning momentum is so great, but what do you do after that?" Mrs. Taylor said.
Attendees raised several questions, including how to fund a garden coordinator position, how schools can afford to buy local PRODUCE, and whether farm-to-school programs should consider applying for 501(c)(3) nonprofit status.
At a school garden workshop, IGS coordinators Melinda Rabbit DeFeo and Kaila Binney talked about the success of the school gardens on the Vineyard. One of the biggest challenges of school gardening is maintaining the garden through the summer months when student activity is low. Ms. DeFeo and Ms. Binney discussed having high school students work throughout the summer and organizing volunteer days. An idea surfaced to hold family gardening activities in the early evenings followed by a potluck.
Many educators found that any open land on school grounds was reserved for athletics, prompting a teacher to ask, "has anyone built in courtyards before?"
"Yes," West Tisbury School coordinator Nicole Cabot said. "They are fabulous. Everyone stares at them all day."
Ms. Binney said the Martha's Vineyard Regional High School now has a courtyard garden, but the idea first made the administration worry that it would distract the students. In the end, said Ms. Binney, the garden is "the best kind of distraction."