The world of herbs can seem overwhelming with the infinite number, exponential combinations and myriad ways to apply them. Herbalist Holly Bellebuono makes it accessible to both the layperson as well as those wanting to delve deeper.
On Wednesday, Feb. 20, Mrs. Bellebuono will give a talk at 5 p.m. at the Chilmark Library introducing her latest book The Authentic Herbal Healer: The Complete Guide to Herbal Formulary & Plant-Inspired Medicine for Every Body System. This is companion piece to her previous book, The Essential Herbal for Natural Health.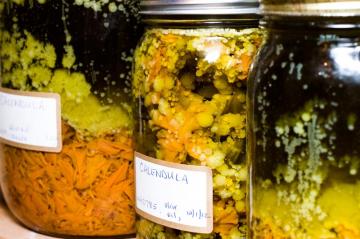 As a child growing up in Asheville, N.C., Mrs. Bellebuono did not imagine that she would eventually become an herbalist, even though she had an innate curiosity and aptitude for plants.
"I grew up around medicine, in hospitals and doctors' offices, in a family of modern conventional medicine, and here I come along interested in plants," she said. "But I was brought up believing anything is possible."
Mrs. Bellebuono earned her degree in English and creative writing from the University of North Carolina in Greensboro, and went on to work in publishing for a couple years in Atlanta.
"I thought I would open a publishing house or become a literary agent or something like that."
Instead she went to graduate school at Appalachian State University in Boone, N.C., obtaining a master's degree in public administration with a concentration in environmental policy. She earned extra money working on a landscaping crew.
"Our crew boss was this old hippie, and we would spend half the time digging holes and planting things, and the other half communing with the plants and learning about the spiritual ecosystem."
While living in Boone she also made friends with a number of the mountain folk in the area. "I got to know the old-timers in the mountains who lived in the outback, didn't go to doctors, would go to the woods when they got sick, never went to hospitals, and lived into their 90s. I would walk around with them, and they showed me what they were harvesting and why, what they did with them, what they called them. . . . that was the biggest education."
Mrs. Bellebuono eventually opened up a small part-time herb business while raising two young children. In 2005 her husband's job brought their family to Martha's Vineyard. She soon opened Vineyard Herbs, which has become a full-time, full-service business with 70 products, including teas, tinctures, salves, oils, liniments and lotions. She also sees clients for personal coaching, conducts local seminars and recently completed a documentary featuring interviews with over 20 women from different professions and countries, including healers, chemists and even a princess.
Her first book, The Essential Herbal for Natural Health, is more about the art of herbal medicine, while The Authentic Herbal Healer concentrates on the science side. The former starts with the basics: what herbal medicine is and concentrates on 13 essential herbs "that can form the cornerstone of a foray into herbal medicine making." The latter was designed more as an "on-the-shelf reference book, making it easy for the layperson."
The Authentic Herbal Healer begins with a history of healing approaches, putting herbal medicine into a historical context. Mrs. Bellebuono explains in the book her four-tier approach in designing formularies, or the specific combinations of herbs for particular ailments. She breaks the body down into its different operating systems, giving an overview of their general health and maintenance, plus different herbal remedies for related problems.
Mrs. Bellebuono says she wants to bridge the gap between conventional and herbal medicines. She sees the relationship as collaborative rather than a competitive. Although steeped in the herbal tradition, she recognizes the value and place for traditional medicine, especially for trauma, broken bones, meningitis and lyme disease, for example.
"You don't run to the doctor to give your power away to someone else," she said. "It should be a collaboration, but many doctors and nurses simply don't know. That's what I see myself doing — going out to the medical community and educating them on what herbs their patients are taking, how they affect different [physiological] systems, and how they can support that."
The last chapter in her second book is dedicated to "positive self-empowerment," in which she discusses not herbs, but the impact of visualization to make aspirations a reality. Originally it came from the idea that one cannot be an effective healer without self-confidence, but the concept has more far-reaching implications. Self-confidence is important but so to is a rebuilding of our confidence in the healing properties of the natural world.