The Martha's Vineyard Chapter of the NAACP held its annual Dr. Martin Luther King Jr. Membership and Awards dinner, which was postponed a day due to weather, on Monday, Feb. 18, at The Grill on Main in Edgartown. Awards went to three members of the Vineyard community for their outstanding commitment to public service. Rabbi Caryn Broitman of the Martha's Vineyard Hebrew Center was recognized, and acknowledged the collaboration between the Jewish community and the NAACP on the Vineyard. Heidi Dietterich who manages the Meals on Wheels program was honored for her service, and Joyce Stiles-Tucker, an Island native and a social worker, was recognized for her work in the community.
"Every year the dinner recognizes outstanding people in our community who have dedicated their lives to public service," said Erik Blake, Oak Bluffs police chief and new president of Martha's Vineyard NAACP. "We almost moved the dinner to honor women's history month because we had such outstanding women's names come up in the awards committee," he added.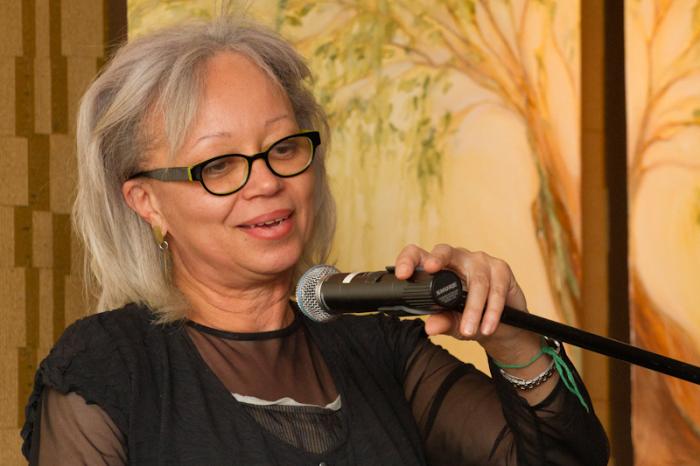 Mr. Blake was sworn in as president a month ago and has been a member of the organization for approximately 15 years. "Being a member is part of what I want to do to give back to the community," he said. "It so happens in my profession that it is important to reach out and develop this kind of relationship in the community."
Mr. Blake served as master of ceremonies for the event, which included dinner and an opportunity for members and guests to reconnect. The featured speaker was Patricia Williams, Harvard graduate and professor of law at Columbia University. Ms. Williams is widely published and contributes regularly to The Nation with her column, "Diary of a Mad Law Professor."
Ms. Williams said she calls the Vineyard home, although admitted she doesn't get to spend much time on the Island. She began her presentation by saying that her topic, mass incarceration and the militarization of young people, was "un-Vineyardy." She cited statistics about how the U.S. makes up five per cent of the world's population and 25 per cent of the prison population. "We have seven million people under correctional control and two million in prison. That's a five-fold increase since the 1970s. And yet there's been a lowering of crime overall." Ms. Williams spoke of the "war on drugs," noting that the jail sentence for someone arrested for crack cocaine use is likely to be much longer than someone arrested for powder cocaine. She said even the names of the drugs allude to different sentencing, "crack" being a dark, cavernous word, while powder cocaine offers a softer, fluffier connotation."
"Drugs are everywhere," she said. "On a warm, spring night in a college town the intoxicating smell of marijuana is floating in the air like a soft caress. Meanwhile, children blocks away will be searched for drugs."
She also discussed the racial disparity among the prison population, stating one in nine young men of color will likely spend some time in prison.
Ms. Williams said the war on drugs has metastasized into a war on children. "We spend no resources on mental health and spend millions of dollars to militarize schools, criminalizing disruptive behavior." In New York city, Ms. Williams said, the disciplining of students for non-criminal matters means some students end up at Riker's Island for "scrawling their name on a desk." Students' behavior is handled by security officers in schools, sometimes leading to fines which are not paid, which then leads to warrants and arrest, she explained. "Zero tolerance means less disciplinary discretion for teachers and administrators and gives it to resource officers and police officers." While money is used to beef up security at schools, she explained, less is used for computers, teacher salaries, school psychologists and classroom necessities. These changes in school discipline have occurred relatively recently, she stated, over the last two decades. The impact of the new policies in schools will lead to difficulties for children for years to come, she concluded. If children are suspended or locked up in detention centers, they are more inclined to drop out of school altogether.
For more information on Martha's Vineyard NAACP call 508-696-5785. Meetings are on the second Sunday of each month at 2 p.m. at the Hillside Village Community Room, Vineyard Haven.