Assistant brew master Jay Bergantim emerged from behind a thick cloud of steam as he scooped excess grain from the shiny copper mash pot in the brew room.
Up a small ladder, brew master Neil Atkins hovered over his latest creation. Doors and pots clanged. Water bubbled, boiled and popped. From inside the giant kettle, steam steadily rose to the top of the room.
"Last time we forgot to open up the chimney," Mr. Atkins said. "So honestly this whole place was full of steam. Just a wall of steam."
A room full of steam, the sounds of a science experiment and smells of a hay barn are evidence that Offshore Ale in Oak Bluffs is cooking up another beer.
Lazy Frog India Pale Ale has been available on tap for a few weeks at the restaurant and will soon make its way from barrel to bottle, the company's sixth beer to reach stores on and off the Island.
Last week brewers started the second ten-barrel batch, which will ferment for about two weeks.
The beer takes it name from the Circuit avenue store Lazy Frog, which sells T-shirts, sports equipment, games and disc golfing items.
For each case of 22-ounce bottles, or bombers sold, one dollar will be donated to the Martha's Vineyard Riverhead Disc Golf Course in Oak Bluffs.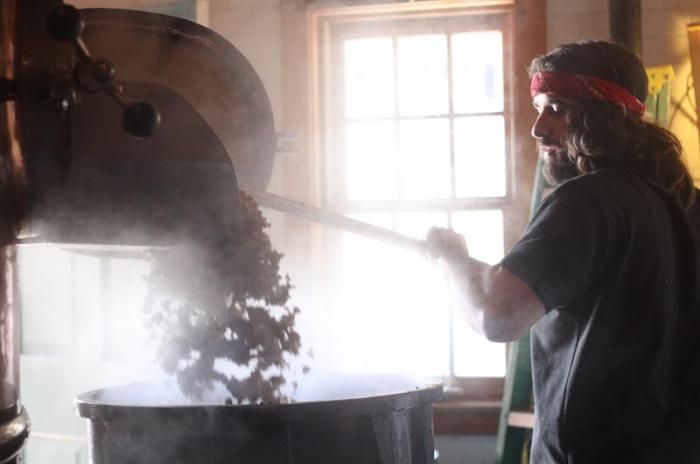 "It's a collaboration of leisure," said Offshore Ale owner Phil McAndrews.
The Lazy Frog beer idea started at the annual New Year's day disc golf tournament sponsored by Offshore Ale and Lazy Frog. The popular event includes a day of games at the disc golf course in the state forest followed by dinner and awards at the brewery on Kennebec avenue in Oak Bluffs.
"That's how we kick off the year," Mr. McAndrews said.
This year about 50 people turned out for the event despite snowy, frigid weather.
"It wasn't as bad as the year it was seven degrees," Mr. Atkins said."You don't get to be outside much when your beer freezes."
The 18-hole course was built on donations and volunteer labor.
"We thought fundraising for the disc golf course would tie directly back to the community," Mr. McAndrews said, speaking of the new brew project. "At the same time we were looking to launch a new India pale ale to America, if you will."
Brew masters said Yakima Valley hops from Washington give the beer a lemon zest flavor that balances with malt and caramel notes. The Lazy Frog IPA is not the only Offshore Ale beer that raises money for Island organizations. Sales from Menemsha Creek Pale Ale and East Chop Lighthouse Golden Ale go toward the Pints with Purpose fundraising program, which donates money to the enlisted grants initiative at the Coast Guard Foundation.
"It's a nice way to take what we do and give back to the community," Mr. McAndrews said.
Lazy Frog IPA is currently available as draft beer at Offshore; bottled bombers are expected to be in Massachusetts and Rhode Island stores beginning in April.