Bats are cracking, sails are full of wind and tennis racquets and lacrosse sticks are in evidence as the spring sports season gets under way at the Martha's Vineyard Regional High School.
Girls' tennis opens Tuesday at 3 p.m. when the team takes on Barnstable. Also on Tuesday at 3 p.m., boys' lacrosse hosts Bishop Stang.
On Wednesday, the softball team hosts Bourne at 3:15 p.m. and the track teams take on Somerset in an EAC dual meet beginning at 3 p.m.
The sailing team kicks off its season on Thursday with a home match against Dartmouth. The races begin at 3 p.m. at Sailing Camp Park.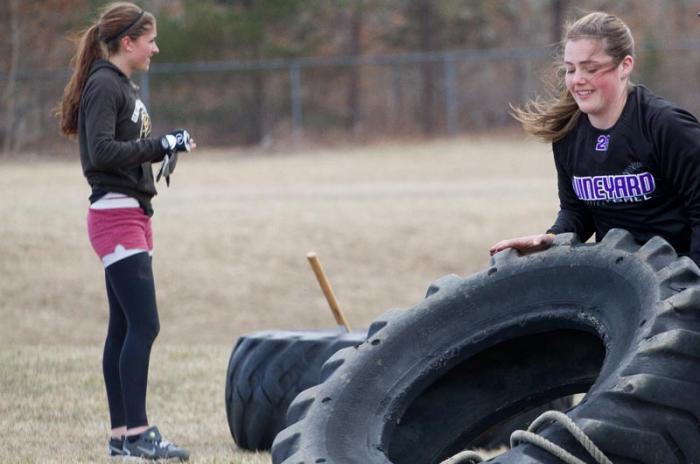 With 10 players back from last year's conference-winning team, the varsity girls' tennis team is a "strong returning group," head coach Connie McHugh said. Five seniors and five sophomores return to the 13-player squad, with the remaining spots filled by freshmen.
The team will also get some tough competition right out of the gate in the first match of the year against Barnstable, a division one team. Last season, the Vineyard's only losses were to Barnstable and Cohasset.
Senior Annie Burton returns for a second year as co-captain and is joined by fellow senior Julia Cooper. Cooper and senior Annabelle Hackney will partner for the fourth year in a row in doubles and will play in the number one spot. Sophomore Samantha Potter secured the first singles spot during preseason challenge matches.
Senior Katherine Donegan and sophomores Charlotte Potter, Diamond Araujo, Josie Iadiccico and Avery Hazell also bring repeat varsity experience to the team. The number two doubles team will be drawn from this group.
"I think they're excited to do well," Coach McHugh said. "We're that much more organized, so we're ready to . . . jump start."
Softball
Nearly all of the 2012 squad returns this season.
"That should put us further along than we were last year," head coach Donald Herman said during practice last week.
The girls posted a 10-10 record last year, advancing to the postseason tournament but falling in the first round. This year Coach Herman said the goal is not only to make the tournament but to earn a high enough seed to host a game.
By tradition, all seniors on the team share captain duties. Ace senior pitcher Hailee McCarthy returns to the mound, as does senior Emily Cimeno, who will also see time in left field. Senior Kendall Robinson, last year's Vineyard representative in the EAC All-Star voting, will play center field, and seniors Megan Buchana and Micheli Lynn hold down the infield fort. Junior Miranda Tokarz returns to the backstop.
Freshman Emily Turney is the lone addition to the varsity team. Turney will take over at shortstop.
The team will play several new squads this year, including Cambridge Rindge Latin, Madison Park, O'Bryant, and South Shore Christian Academy. Their first game is Wednesday at home against Bourne.
Baseball
After losing much of the team to graduation last year, this year's varsity baseball team is admittedly a young squad.
"It's one that has the talent," head coach Gary Simmons said during practice on Monday. "We just need to be able to maximize opportunities during play."
The Vineyarders begin the season Wednesday with an away game against Cape rival Bourne, but have already scrimmaged with Nauset and Pope John Paul. Both the varsity and junior varsity squads played in the scrimmages, giving the younger players valuable preseason experience.
The squad is captained by four-year varsity shortstop Jack Roberts, who will pitch on occasion too. He is joined by fellow seniors Ian Bardwell and Mike Piland in the infield and Brendan Maseda and Austin Stevenson in the outfield. Oscar Hansen and Aaron Lowe represent the junior class, with sophomores Mike Mussell, Jack Slayton and Andrew Wiley also stepping up to the plate. Emerson Mahoney will make his varsity debut as a freshman.
Sophomore Tim Roberts and freshman Tucker McNeely will both see starts on the pitching mound.
The team will again take part in the Westwood Tournament over April vacation; Coach Simmons said the rivalry games with Bourne and Nantucket should also be good competition for the team.
Sailing
After a cold, choppy and windy two weeks on the waters of Lagoon Pond — head coach Andrew Burr called it the worst weather he had seen in his time with the team — the sailing squad hosts its first races on Thursday, taking on visiting Dartmouth.
Coach Burr praised the core talent of this year's group. Of the 19 varsity sailors, 15 are freshmen and sophomores, with most of the sophomore class, including sailors Raz Sayre, Eli Hanschka, Zana Van Rooyen, Ellie Regan and Anna Flaherty returning from last year's group. Sophomore Elie Jordi is new to the team, but not the sport.
Seniors Katie Johnson and James Ulyatt captain the team, which is co-ed. Both Johnson and Ulyatt are three-year varsity sailors. Seniors Doug Andrade and Tyler Shapiro return for their final year.
"We're a very, very young team, but a very talented team," Coach Burr said. "There's a lot of depth on the team. It's a good problem to have," he added.
Sail Martha's Vineyard waterfront director Maggie Lumkes, an All-American crew member at St. Mary's, joins the squad as assistant coach.