There are two televisions at Tropical restaurant in Vineyard Haven, one tuned to CNN, the other to Brazilian soccer. Construction workers pack the place around noon, load up their plates with veggies from the salad bar and barbecued steak and chicken. Parents bring their kids, who like the idea of deciding what to put on their plate, even with the usual parental guidance.
"I like talking to people," Tropical co-owner Johnnatans Costa said. "I love my job."
Mr. Costa came to the Island for the first time when he was 18 and has lived on the Vineyard for 10 years. He sees himself growing old here. He and his partner Marcos Aiolff took ownership of the restaurant in September 2011. At the time, they knew they had the foundations of a solid business but needed to diversify their customer base in order to thrive in the quiet winter as well as the flush warm weather months.
Attracting vacationers was not an issue, but creating a space where Islanders of different backgrounds would want to eat lunch and hang out was a little trickier.
"When we bought it, there weren't many American customers," said Mr. Costa. "We had to make a change but we couldn't lose the workers."
The cuisine at Tropical, located at the busy Five Corners intersection, is Brazilian, but the customers who come from all over to eat fresh salads and tasty barbecue are not all Brazilian. To attract families and please their dependable lunchtime crowd, the two owners kept the original spread — traditional Brazilian cuts of meat and a generous salad bar — but focused on revamping the restaurant's interior.
"The space wasn't kept up well before," Mr. Costa said. "It was dirty. You came in and didn't feel comfortable." They decided they wanted to create a space where parents would want to bring their children but keep the atmosphere easygoing.
Today the floors are made of wood and the walls are freshly painted. Saloon doors mark off the buffet bar from the kitchen. A metal sign of a leaning green palm tree and lighted red letters spells Tropical in loose cursive. A banner advertises a spring promotion: $5.49 for a pound of food after 4 p.m. through May 1.
Tropical's main selling point is a balanced meal for a bargain. Folks going off the clock can grab a plate of steak and vegetables for less than the cost of a sandwich in many places. The vibe is relaxed. When Mr. Costa isn't manning the cash register, he sits down to chat with regulars. Mr. Aiolff, 35, works the barbecue and serves up beef, chicken, sausage and lamb. When the weather turns warm, people dine out front at picnic tables. On Sunday, families and groups of friends dress up and enjoy weekend brunch.
Brazil is famous for its churrascarias, all-you-can-eat restaurants where, due to cheap beef prices, patrons can enjoy choice cuts of meat and ornate salad bars without having to break the bank. In the late 1990s, chain restaurants like Fogo de Chão and Texas de Brazil popularized the model first in Texas and then brought it to major cities on the mainland. Devotees of Brazilian barbecue may even recognize the meat at Tropical, like picanha, a Brazilian cut that American butchers typically divide into the rump, the round and the loin. After customers fix their plates, Mr. Costa asks if they want meat. He slices it right off the skewer.
Tropical's owners are keeping up the churrasco tradition while providing a friendly space where Islanders of different backgrounds can indulge in South American fare. Regular customers seem to appreciate the effort.
"It's one of my daughter's favorite places to eat," said Jon Mayhew, a builder who eats at Tropical a few times a month. "It's nice having a buffet."
Tisbury police chief Dan Hanavan likes to come in for his lunch in the late morning.
"If you come here at noontime it's really slammed," the chief said. Throughout the week, workers in a hurry come in and grab to-go boxes. On Wednesday afternoons the owners head home to pay bills and deal with paperwork.
Alice Thompson of Oak Bluffs likes the vegetable selection and friendly atmosphere.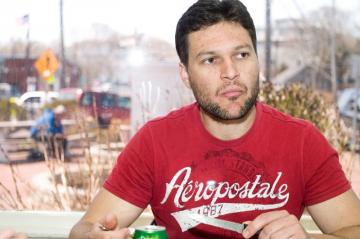 "I come from a Sicilian family and my mother always cooked from scratch. They call it slow-cooked now," she said. "Excellent. A-plus."
Along with the meat, the usual salad bar features beets, collard greens, spinach, tomatoes, sliced pineapple, cauliflower, boiled eggs, Caesar salad and a kind of chicken salad called salpicón. Refrigerators keep soda, water and juices cold. Desserts include cake, strawberry pudding, dulce de leche and brigadeiro, a Brazilian sweet made from sugar, condensed milk, butter and cocoa powder.
"It's good food," said Gilson de Oliveiro who came in for lunch with his son on Wednesday this week. Bruno Santa Clara, a carpenter, likes the lasagna, when it is offered.
Proceeding from the buffet, customers set their plates on a scale and pay by the pound. Mr. Costa said regulars can usually guess the weight of their meals with surprising accuracy.
Eloise Boales, a traffic officer, and Jay Clark, who runs a screen and glass business, were having their lunch Wednesday. Both said the salad selection was key and that it was a good place to eat when following a diet.
"Everything on the buffet is pretty good," Mr. Clark said. "The meats are seasoned very well."
Earlier Ana Souza and Maria Paula, a mainlander who works as a maid, were eating together. Paula also works as a caterer and enjoys making fish and pasta.
"There's a lot of options here," she said. "You can follow a balanced diet."