When news spread quickly on the Internet that legendary Boston crime boss James (Whitey) Bulger had been captured in Santa Monica on June 22, 2011 after 16 years on the lam, it was fitting that Dick Lehr found out the old-fashioned way. He read about it in the Boston Globe, delivered to the doorstep of his Belmont home the next morning.
More than 20 years earlier, Mr. Lehr was part of a team of Boston Globe reporters who first reported on Whitey's "special relationship" with the FBI, when Mr. Bulger served as an FBI informant. Whitey was eventually tipped off by his corrupt FBI handler just before his arrest and he went into hiding for 16 years. Mr. Lehr and fellow former Globe reporter Gerard O'Neill chronicled the story of Whitey and the FBI in their book Black Mass: Whitey Bulger, the FBI, and a Devil's Deal, published in 1998.
After his disappearance in 1994, Whitey was listed as number one on the FBI's most wanted list and thought responsible for at least 19 murders. He was captured outside his home in Santa Monica living under the name Charlie Gasko. Mr. Lehr and Mr. O'Neill decided to return to the story of the fabled crime boss who needs no last name. Their new book, Whitey: The Life of America's Most Notorious Mob Boss, was published in February, in time for Whitey's trial scheduled to start in Boston in June.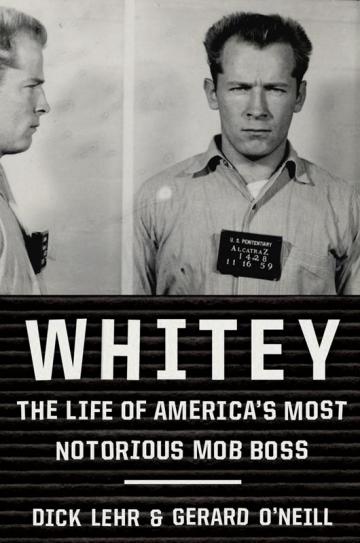 Mr. Lehr, a former Globe reporter who now teaches journalism at Boston University, will talk about the book on April 17 at 7 p.m., at Bunch of Grapes Bookstore in Vineyard Haven. He and his family spend time each summer at their house in Aquinnah which Mr. Lehr and a friend purchased in the early 1980s. While the author uses the Vineyard as a place to relax, he said there are always physical reminders of his writing projects even while on vacation.
"There always seems to be a cardboard box full of files," he said. "Whatever stage I'm at, I don't want to be completely cut off."
Mr. Lehr and Mr. O'Neill had long ago turned to other projects after Black Mass had been published but then an agent called to convince the writers that there was more to the story after Whitey's capture. "History's going to show he's one of the major crime figures of the last century . . . he in his way warrants a biography," Mr. Lehr said.
The new book revisits the years chronicled in Black Mass during which Whitey was a key player in a story about FBI corruption, "and puts that in context of a full life." Mr. Lehr noted that when Whitey cut his deal with the FBI, he was already in his late 40s. "He'd lived half a life that had barely been scratched at . . . so there's all these unexplored years that would be the stuff of a biography."
A rough Bulger time line existed, but the authors fleshed it out. Whitey's participation in an LSD experiment at an Atlanta prison was a known fact, "but what did that really mean?" Mr. Lehr said. Enter Whitey's prison file, which ran about 500 pages and was recently made public. Mr. Lehr and Mr. O'Neill had been after the file since the late 1980s, and thanks to an Alcatraz prison project it became available. "That was a treasure box of information about all kinds of things. So that was huge," Mr. Lehr said.
The book follows Whitey's path from his forebears' departure from Ireland, his juvenile brushes with the law (he once had a pet ocelot named Lancelot in the family's South Boston home), and his time spent in prisons around the country, including Alcatraz.
"He liked Alcatraz, in part because he got his own cell. He's such a control freak," Mr. Lehr said. "So he knew he'd line up his books and no one would mess with them."
The book sheds light on Whitey's relationship with his father, which Mr. Lehr termed "hate-filled," and his close ties with his siblings, including his brother William Bulger, the former Massachusetts senate president.
The book aims beyond the when and where, Mr. Lehr said. "It's our job to get at the why of Whitey . . . to get some kind of psychological handle on the making of this monster," he said. "I think we were able to break through on that front in ways I don't think are part of Black Mass."
It's been well established that Whitey is a psychopath, for example, but "not all psychopaths turn into crime bosses and serial killers." So the book looks at how seeds were planted early on in his life, including his relationship with his father. "Being able to deconstruct his juvenile arrest record, and realizing that he got caught but he never got any kind of punishment — really, he always had a sense of avoiding punishment," Mr. Lehr said.
"So we started to be able to develop the sense that the street life, the criminal life, nourished his ego and...then it also got reinforced and he was able to acquire a sense of self-entitlement because he never really paid the price for his behavior either at home or with the authorities. And all those were important foundations and building blocks of the Whitey that was to come."
This pattern climaxed with his deal with the FBI, he said. "Talk about no consequences."
They also followed the years Whitey lived as Charlie Gasko with his companion Cathy Greig. As it turns out, the apartment manager who helped the FBI capture the couple was a Boston University graduate. Over a long night in Santa Monica, Mr. Lehr heard a firsthand account "in which he just really walked me through the day Whitey was captured and what is was like for him and what he was trying to do. He was trying to make it to a concert."
Realizing that Whitey and Ms. Greig had been living quietly as retirees near the beach "began to make a lot of sense," Mr. Lehr said. "It was in many ways a high-end version of what he used to like to do in Southie. That's where he'd like to meet people and walk around the beach in South Boston."
These days, Whitey lives at the Plymouth County Correctional Facility and Mr. Lehr will be in the courtroom when the crime boss, now 83, faces trial. Besides providing commentary on the proceedings, Mr. Lehr said he plans to add a chapter about the trial to the paperback version of Whitey.
At around the same time filming is slated to begin in Boston for the movie version of Black Mass, a project that has been in the works for years. Johnny Depp has been cast to play the infamous gangster, and Mr. Lehr has been fielding questions from director Barry Levinson and his team.
Mr. Lehr also plans to move on to some non-Whitey-related projects, including a book about protests in Boston over racist content in the 1915 film Birth of a Nation.
But few stories are likely to provide the long, wild ride that has come with documenting Whitey. The story has "taken some zigs and zags over the years," Mr. Lehr said. "In the beginning it was a fascinating tale of two brothers, one was a crime boss and one was a successful politician who in the 1980s were both at the top of their game. It was a time when the myth of Whitey Bulger was deeply in play." The story evolved during Whitey's years on the run.
"You realize what a criminal genius he is, and he's a fugitive, and not just any fugitive. He's out there, he finds a way to not get caught . . . he's become a major crime figure in American history," Mr. Lehr said. "He brought the FBI to its knees."