As we wait for the first crops of the new growing season to appear in school gardens, Island Grown Schools' Harvest of the Month program celebrates winter squash, one of the best storage crops to help sustain us through the long months between fall's bounty and the first crops of spring.
There are many different types of winter squash to love — butternut, Hubbard, acorn, turban and dozens more — and many children have never tried any of them. In March IGS held taste tests at 12 Island schools to help introduce winter squash to preschool through high school-aged students. It can be daunting to try new foods, but they faced the challenge bravely.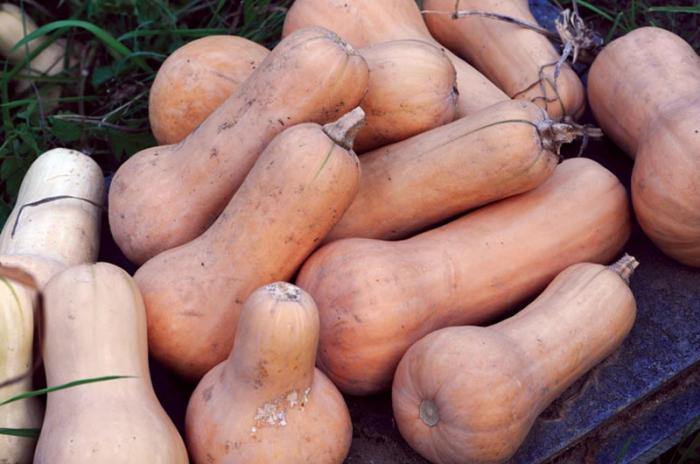 At a taste test held at the Tisbury School, half the students who tasted the samples of roasted squash soup had never tried winter squash before. One first grade boy sidled up to the tasting table, looked at the squash with dismay, and took a deep breath. "I'm gonna be a man if I can," he said, and poured his sample cup back in one gulp. He grinned. "That's okay!" he said, and joined 78 per cent of tasters that day who said they "liked" or "loved!" the soup.
At the Edgartown School, Harvest of the Month guest chef Robin Forte joined Gina DeBettencourt and her staff in the school kitchen to make five different dishes for the lunch line featuring butternut squash. They made butternut slaw with Mermaid Farm yogurt dressing, squash ribbons (very thinly sliced roasted squash chips), butternut squash custard with caramel sauce, butternut squash cornbread, and a butternut squash soup.
And at the Chilmark School, chef and dad Robert Lionette and his student chef helpers made a delicious community lunch for the entire school and special guests from town, featuring the three most recent Harvest of the Month crops — seafood, potatoes and winter squash — which they enjoyed together at long, beautifully set-tables in the Chilmark Community Center.
Chef-farmer Chris Fischer contributed this month's featured recipe, a simple, delicious butternut squash soup that only needs four ingredients. Try making it with your kids, and help them come to appreciate this tasty, nutritious, long-lasting winter vegetable.
Noli Taylor is executive director of Island Grown Schools, a program of the Island Grown Initiative. This column appears monthly in the Gazette throughout the duration of the Harvest of the Month program. For more information, go to islandgrown.org/schools.