It's that time of year when seasonal businesses are taking down the shutters and the summer workforce is beginning to arrive.
In recent years Eastern Europeans and Jamaicans have been filling a growing share of summer jobs. Foreign workers wait tables, greet guests, pour beers, make hotel beds, bake peanut brittle and fudge, serve lobster rolls and fry quesadillas. About 5,000 people come to the Island to work each year, according to a recent Martha's Vineyard Commission report on housing needs.
Through the J-1 visa program, workers generally come to the Vineyard for periods of a few months to a year. Under a specialized version, workers must have a degree tied to a specific industry. Similar to an internship, it allows them to work for longer periods.
Troy Neuenburg, general manager of the Sand Bar and Grille in Oak Bluffs, takes an active role in staffing his establishment. He regularly visits Europe to recruit employees and is even working with a filmmaker who is documenting his excursions.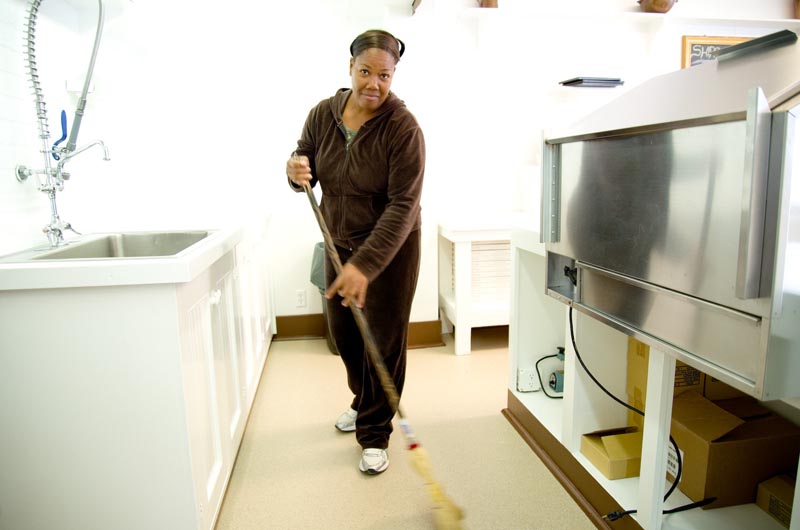 "I think it's a great program," he said. "When I go over there I do a lot of lecturing."
Mr. Neuenburg speaks at job fairs and colleges and hires primarily out of Bulgaria. The Sand Bar employed 14 Bulgarians last year.
Seasonal employees come from a variety of places: Bulgaria, Serbia, Jamaica, Brazil, Australia, the Philippines, Kyrgyzstan and Kazakhstan. When the students come depends on their respective vacation schedules.
Many workers from Eastern Europe are expected to arrive May 1. Hospitality workers from the Philippines are already here. South Americans and Australians generally come around the time when winter begins in their countries.
This week Vineyarders did the planting on Morning Glory Farm. Next month nine Serbians and a Bulgarian will join the workforce as part of the J-1 cultural exchange program. "Since two people are returning it's a little easier to set up," said Jim Athearn, owner of the farm. "We've been doing it for 10 years."
Massachusetts saw 5,556 workers come on J-1 visas in 2012. Unlike visitors on H-B2 visas, which is designed specifically to solve labor shortages, J-1 workers are expected to work a few months and then travel.
The Harbor View Hotel in Edgartown employs J-1 workers for up to a year through a hospitality training program. Like other businesses, the Harbor View provides subsidized employee housing. The vast majority work in housekeeping and food and beverage. A few work in the front office.
Sarah McKay manages hiring for Cronig's Markets in Vineyard Haven and West Tisbury. She has 10 workers coming this year. Most will make at least $13 per hour.
"For us it has been a word-of-mouth thing," she said. "Half of the 10 are returning from previous years."
Island businesses typically advertise for workers through the Council on International Educational Exchange, a nonprofit founded in 1947 that specializes in work, teaching and study programs, and InterExchange, a company that organizes short-term J-1 trips and also organizes overseas work and service projects for Americans and Canadians.
Many businesses have a number of returning workers. Often, visitors make a lot during a summer compared with what they can make in a few months in their home countries. By word of mouth, they bring friends to work from other countries.
In the past, seasonal jobs were filled by Islanders or college students who came to work summers on the Island. But high rents have priced out the college crowd, and although there has been a renewed initiative among residents in recent years to hire Islanders, many employers say there just aren't enough interested people who live here and are of working age to meet the demand for labor.
But trends may again be shifting. Tisbury selectman Tristan Israel runs a landscaping business. Six years ago, he said, few Americans called to answer his want ads.
"Now, most people calling are predominantly Americans, with some Eastern Europeans," he said. Previously, Brazilians filled all the landscaping jobs on the Vineyard, he said.
Changing demographics on the Cape and Islands over the last decade is reflected in U.S Census data, which among other things shows that the region has the oldest population in the state. Compared with the population in 2000, the number of residents in the region who are 44 years old or younger has declined, while the number of older residents has risen.
Immigrants and temporary foreign workers have helped fill the labor gap, but there are indications that recently the working-age immigrant population has also declined. The Cape and Islands region is the only labor market in the state to see such a decline, according to the Federal Bank of Boston.
There are unofficial reports that the Brazilian community, long a source of cheap labor on the Island, has been shrinking. Due to the broad nature of census questions, an accurate population count of the Brazilian community on the Island has remained out of reach. When filling out questionnaires in the most recent census, some Brazilians checked the box marked "Latino," and some checked "Other." Others, having overstayed visas and fearing deportation, may have avoided census workers altogether.