With just two weeks to go until Memorial Day weekend, restaurants are making their final preparations for the season: sprucing up interiors, finalizing menus and making new hires. And while most of those hires are waitstaff and kitchen crew, some establishments have new leadership in the chefs themselves. Several Island chefs have moved to new homes, bringing different flavors to establishments from Menemsha to the Tisbury Marketplace.
Chef shuffling has become a standard on the Island, allowing cooks to continue evolving as professionals and keep their creative edges honed.
"Obviously, every restaurant does things differently," said Chris Fischer, who took over the helm of the Beach Plum Inn earlier this year after several years of catering. "So you take what you think is good from one place and...apply it to your new scenario."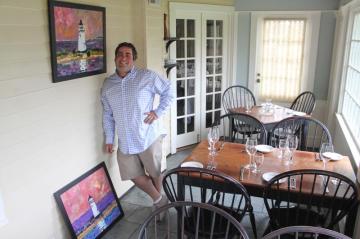 "What's nice about this industry is you can never taste it all, you can never cook it all, but what you can do is work at different restaurants. I like to call it a toolbelt," said Michael Rottman, chef de cuisine at Atria. Mr. Rottman worked at l'etoile for three years and spent a year at Fishbones before coming on board with Atria chef-owner Christian Thornton.
Mr. Rottman's cooking foundation was formed while working with Michael Brisson at l'etoile, he said. And working at Fishbones "was great for me because I learned about what people on the harbor want to eat....fish sandwiches, fish tacos, fried calamari," he said. "You've got to know your customer base and what your customers want."
At Atria, he's expanding his toolkit to include Asian ingredients.
"Christian . . . adds a little Vietnamese, a little Japanese, with kind of a New England flair," Mr. Rottman said. "So it's kind of a nice transition for me."
For Mr. Fischer, shifting to a permanent location has been one of the benefits of his move to the Beach Plum.
"It's been a wonderful change to be cooking in your [own] kitchen," he said. Working in the catering business, he was "always in a different kitchen, a different space."
"So I feel like that gave me the capability to cook in any sort of circumstance, [but] it's nice to have consistency," he said. "When you put something away, it's in the same place."
Max Eagan is now the pizza chef at Rocco's in Vineyard Haven after leading the kitchen at Lambert's Cove Inn. He's helping launch a new breakfast menu at Rocco's and is starting a lobster bake catering plan ("Believe it or not," he said). For him, cooking pizza means circling back to how it all began.
"When I grew up and was first starting out . . . one of the first things that I went to do was make pizza," he said. While a student at the University of Connecticut, Mr. Eagan began managing a pizza place on campus, eventually spending more time at the pie stone than the academic grindstone.
"That was how I decided that was going to be my career, in the kitchen," he said. Mr. Eagan returns to his roots in another way as well — he grew up on the Vineyard and now works alongside longtime family friend Pete Sullo, Rocco's co-owner.
Teddy Diggs, like Mr. Eagan, made a shift to year-round, down-Island cooking, moving from the Home Port and Beach Plum Inn to the Art Cliff Diner earlier this spring.
"It's a completely different change of environment for me," Mr. Diggs said. "It's my first step into what really is a small Mom-and-Pop kind of restaurant, which is kind of the direction I want to go in with my family as well."
Mr. Diggs began his career working in high-end restaurants in Washington, D.C., turning in long hours and skimping on personal time. He has always been accustomed to staying out of view, in front of the stove and behind the kitchen doors. At the Art Cliff, owner Gina Stanley and her small staff use "a more hands-on, direct approach that I'm really appreciating here," he said. If a server calls in sick, he'll jump in to be a waiter. If a dishwasher is out, he and Ms. Stanley will tackle the plates and cups themselves.
"It's a really good partnership with Gina as far as how we handle the day to day stuff," he said.
Mr. Diggs said he was enjoying being part of the Art Cliff's long history — the diner turns 70 this season.
"I'm trying to pay respects to all that and not do my own thing," he said. "And have fun. I think we have a big summer coming up."