Four words are carved in a wooden block sign hung above the door frame in Peter Martell's Oak Bluffs office.
Ever Ready.
Ever Willing.
Mr. Martell is one of the co-owners of the Wesley Hotel, the oldest hotel on Martha's Vineyard. Along with George Fisher and Richard Kelley, he bought the hotel in 1985 from Paul Chase. The three men renovated it for nine months and reopened for business in the spring of 1986.
"I hung that sign up about 15 years ago," Mr. Martell said on a recent afternoon. "It's a firefighter thing, a public service thing. It just means whatever we have to do, we have to do."
"But I don't think it really has much to do with the Wesley," Mr. Martell added. "I have been a fireman for 42 years, that's why I have that."
The sign seems to speak to the lives of all the current owners. In addition to Mr. Martell's long history as a fireman, Mr. Fisher is currently an Oak Bluffs fireman and a former Oak Bluffs police sergeant and police chief. Mr. Kelley is a retired Massachusetts State Police lieutenant.
When the three men bought the Wesley in 1985 for $250,000 it was in need of a massive renovation. According to an article in a 1986 edition of the Vineyard Gazette (May 23), the renovation costs were valued at more than $600,000.
"I never knew the Chase family would sell this hotel, so when Paul Chase did, we bought it and started renovating," Mr. Martell said.
According to Mr. Martell, the aim of the renovation was to return the hotel to its former glory, making it both look and feel as it originally did when it first opened in 1879. Over 150 windows were replaced. New furniture was purchased and period chandeliers were hung from the statuesque high ceilings in the lobby. The scrollwork bordering the hotel was restored and reinstalled and the wallpaper replaced.
The exterior was repainted, adding a light blue trim, and the cedar shingles were replaced.
"It was a terrible green with yellow before," said Mr. Martell. "We had to paint it something else."
Today, just like in 1986, about 50 P&L Chair Co. brown cane rocking chairs sit waiting on the Wesley's wrap-around porch.
Mr. Martell credits the look of the original Wesley to its builder and first owner, Augusten Goupee, a French Canadian cook. Mr. Goupee changed his name to Augustus G. Wesley. According to the Wesley Hotel's website, the name change "was part of a business plan to make a subliminal connection with John Wesley, the founder of Methodism."
"The hotel sits in the Martha's Vineyard Camp Ground Meeting Association. We lease the land from it annually," said Mr. Martell.
The Wesley Hotel's website continues, "Twenty years of professional operation by the Wesley family was greatly tainted by Gus's arson conviction and subsequent jail term for setting an insurance fire in the hotel in November of 1894." Five years after Mr. Wesley set fire to his own hotel, Joseph Fullerton Hilton assumed ownership of the hotel. In 1902, Mr. Hilton's son-in-law Herbert M. Chase took over the management. George Chase took over the hotel shortly after, and eventually passed it down to Paul Chase, the man from whom Mr. Martell, Mr. Fisher and Mr. Kelley purchased the hotel. The three owners keep the hotel up to all safety and fire code standards. "The building has come a long way from rope ladders to fire escapes," Mr. Martell said.
Mr. Martell shuffled some vintage postcards from one hand to the next. "These will give you a good idea of what the place was like before, what we tried to restore it back to," he said.
In fact, it was a postcard from 1915 that the current owners used when doing the renovations in 1985 and 1986.
The Wesley looks almost identical to the building built in 1879, with the exception of the paint color and one other noticeable difference. Old postcards show a huge W on the main roof, eight feet by eight feet.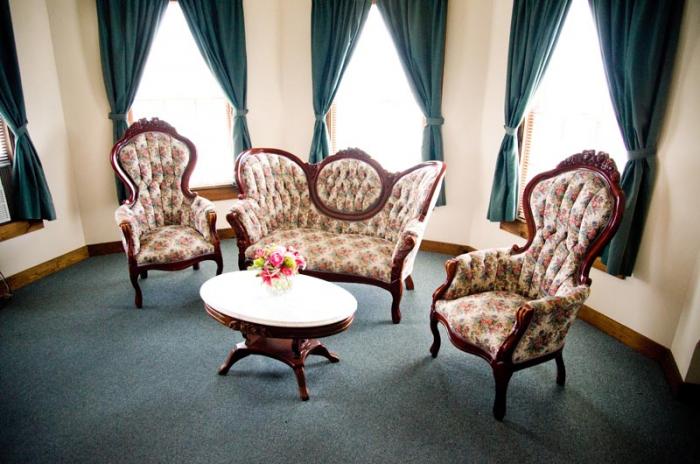 "The old W had fallen down," said Mr. Martell. "In '85 we found it on the roof. It would have cost a lot of money to restore it. We saw it on the roof and it was all beat up. It was rotting away. We toyed with the idea of putting it back up but that type of advertising wasn't really acceptable. It was big and didn't fit with the decor with being moderate. Really, it was just a little too much for the era and we didn't like how it looked. So we elected not to put it back up. Times have changed. Really, times have changed."
Times have changed so much that Mr. Martell, Mr. Fisher and Mr. Kelley put the Wesley up for sale four years ago.
"I'm really selling it because I want to retire. We've been here long enough," said Mr. Martell.
"And unfortunately the big hotels are going the way of the dinosaur," he added, "Someone could buy it and turn it into condos, I'm not sure. People are renting houses now, that's the reality of the market."
But until a sale is made Mr. Martell and his partners will continue to own the historic hotel.
"I'm not going anywhere," he said. So for now, Mr. Martell continues to run the Wesley. Ever Ready. Ever Willing.