For some, it was a business evening; for others, a chance to rub elbows with the who's-who of the Island community. Whether they came to collect awards or simply enjoy the festivities, crowds packed Flatbread Company in Edgartown Monday night for the unveiling of Martha's Vineyard Magazine's Best of the Vineyard. The awards, chosen by magazine readers, honor the finest business establishments, places and events.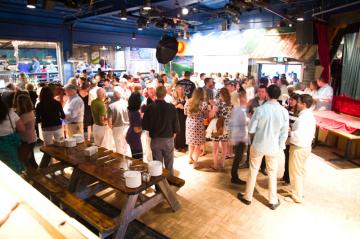 The contest features 83 categories, ranging from best place to rent bicycles to best summer event.
Several businesses took home multiple awards including Nancy's Snack Bar, Offshore Ale, Sharky's Cantina, the Green Room, Giordano's, Atria, The Black Dog and the Net Result, which led the pack with six wins and one runner-up award. First-time winner the Martha's Vineyard Film Center, just opened last fall, was named best movie theatre. Dreamland, also opened last year, won the title for best place to hear live music.
The Oak Bluffs fireworks show unseated the Martha's Vineyard Agricultural Society Livestock Show and Fair as the readers' choice for top summer event.
In a new category this year, the Yard dance program in Chilmark was named best performing arts organization on the Island, with the Vineyard Playhouse coming in a close second. New food-related categories brought a nod to Chilmark Chocolates for best Island-made candy/chocolates. Atria won for best french fries, a compliment to their best burger win.
The gala celebration featured music by DJ Shizz and free brick-oven pizza by Flatbread, which was devoured by members of the Martha's Vineyard Sharks baseball team and kept staff running to keep pace with their appetites.
Martha's Vineyard Magazine has been sponsoring the Best of the Vineyard awards since 2001, carrying on a tradition begun by the Vineyard Gazette in 1996. Details about the winners and runners-up are included in the July issue of Martha's Vineyard Magazine, on newsstands now. For more information about the contest, visit mvmagazine.com.