Gary Hoffer, 59, of Pawtucket woke up very early on Sunday morning to fish Lobsterville Beach.
"You need to go when it is convenient for the fish," Mr. Hoffer said. "If you want to go fishing at 10:30 in the morning, you won't catch a damn thing."
Mr. Hoffer said he has been coming to the Vineyard for 38 years and fishing in the early morning for 30 of those years. While his wife Pamela, brother Jack and sister-in-law Deb slept, he soaked up the sunrise and the quietest hour of the day.
For his efforts, Mr. Hoffer caught a nice striped bass. He caught it at about 4:30 a.m., just as the sky was brightening.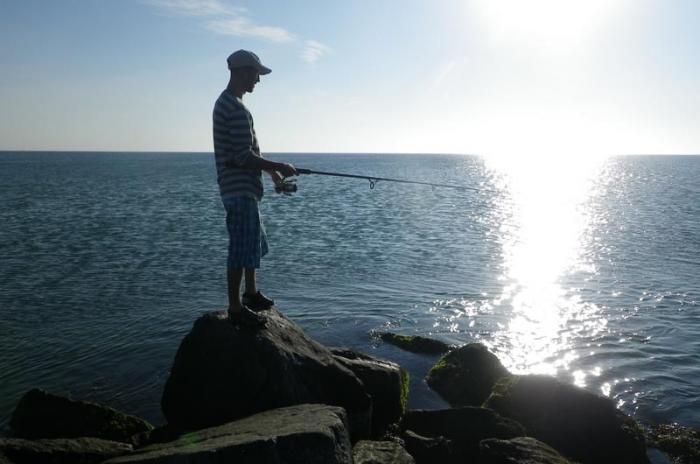 "It is going on the grill tonight," Mr. Hoffer said.
There is another aspect of fishing early that works well, Mr. Hoffer said. He can do it without interfering with the affairs of family during the day.
Striped bass are sensitive and it is felt by many that stripers become more scarce as the temperature of the water passes a certain threshold. The familiar observation is that as the day heats up the fish go into deeper, cooler water, so shorefishing can be more productive in the earlier part of the day.
There is also more public access in the early morning. Many of the beaches which require a town sticker later in the day such as Squibnocket Beach and Lambert's Cove are open in the early morning.
For those able to get to Chappaquiddick early, the drive to North Neck and the public fishing spot there is easy. There is no oncoming traffic and plenty of parking. Morning isn't exclusive to fishermen roaming their favorite spots. There are naturalists and hikers out and about, too.
Twenty years ago, Lou Tabory, a well-respected Cape Cod flyfisherman, wrote a hardcover book called: Inshore Flyfishing, a pioneering guide to flyfishing along cold water sea coasts. The book has plenty of applicable tips about shore-fishing, not just for flyfishermen but all shore fishermen. Mr. Tabory was an early morning fishing enthusiast.
"Night and low-light periods are usually the most productive time for bass, particularly in the hot days of summer," he wrote. "Being a morning person, I prefer the hours before dawn for several reasons. One is that I'm alert, but mainly, there is less fishing activity because most anglers are still in the sack. All-night angling is the best way to fish for bass, but early morning offers ideal fishing, with less hours to be invested. Both morning and evening as the light changes are the optimum times to fish, for the changing light confuses the baitfish, making easier feeding for most gamefish..."
We would only add that early morning angling is also a great time for that occasional school of bluefish that will circle the jetties and cross in front of the North Shore coves.
Fluke Tournament
A fluke is a lot like a flounder. Only bigger. Sometimes a lot bigger. This weekend is the annual VFW-sponsored fluke fishing tournament with registration available at bait and tackle shops all over the Island. You have to keep your hook on the bottom if you expect to snag one. And bring a big net.
The tournament is Saturday and Sunday and ends with a cookout and awards ceremony at the VFW on Towanticut avenue in Oak Bluffs at 5:30 p.m. on Sunday. This is a fishing derby for all ages. Weigh-ins are from 4 to 6 p.m. both days at the VFW post. Who knows, you may just land the biggest fluke. That's a good thing.
If you can't get out on the water this weekend or are more of an armchair fishermen, the Chilmark Library is holding a Meet the Fleet event on Wednesday, July 17, at 5 p.m. Members of the Menemsha Fluke Fleet will be on hand to discuss all there is to know about this bottom dweller. Fluke will also be attending the event, cooked and ready to eat. Samples of "Vineyard Sole," as fluke is advertised, will be available.
Admission is free. The program is sponsored by the Menemsha Fisheries Development Fund and the Friends of the Chilmark Public Library.
For more information, contact warrendoty@verizon.net.