While shoppers at Morning Glory Farm amble about in slow motion, being seduced by brightly colored displays of fresh produce and aromatic baked goods, just inside the kitchen door there is a carry-in/carry-out, wash-and-sort frenzy of activity. The staff at Morning Glory Farm, like the roundabout at rush hour, is a flurry of individual purpose and intention carried out with high-speed finesse. They have been working since either 5 or 7 a.m. and now it's almost noon. There will be close to 80 employees for lunch today.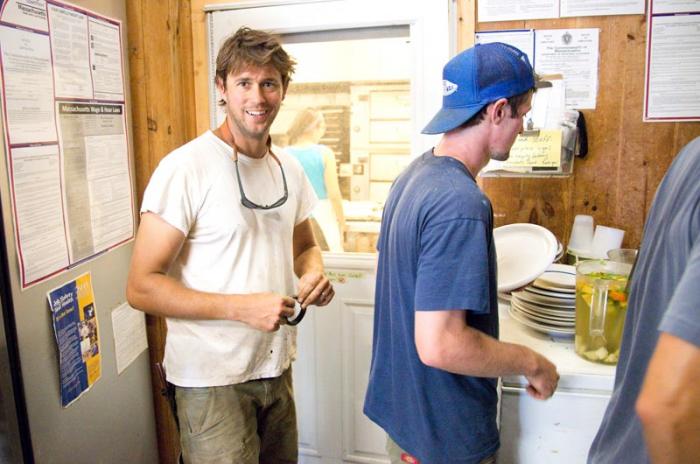 James and Deborah Athearn's 120-acre Edgartown farm serves a staff-only farm fresh luncheon feast five or six days a week. Executed by the talents and enthusiasm of cook Stephan (Steph) Pond, it is five-star impressive. The top of the commercial freezer completely disappears under large pans of chicken in roasted garlic, lemon-thyme marinade, crisp red potatoes in roasted garlic olive oil and seasoned with sea salt, freshly picked house salads, peppers, zucchini and sweet yellow crookneck squash, and today, as an afterthought in case someone's still hungry, a large bowl of spaghetti and meatballs. There are also pitchers of lemonade and another cool drink made with parsley, citrus and fruit.
Twelve noon on the dot, and in the time it takes to say "Yum," a scraggly line forms of field, greenhouse, kitchen and livestock hands. It is a gathering of hard-working young adults clad in cut-offs, tank tops, torn T-shirts, aprons and earrings, and boots, work shoes or sneakers. Everything and everyone is covered in a film of rich soil. Some look as if they have tunneled their way to the kitchen.
Second-year field hand Ryan Cuene, from Green Bay, Wis., says the dollar-a-day lunch, "is the best meal of the day. Steph is really good at incorporating all the food groups."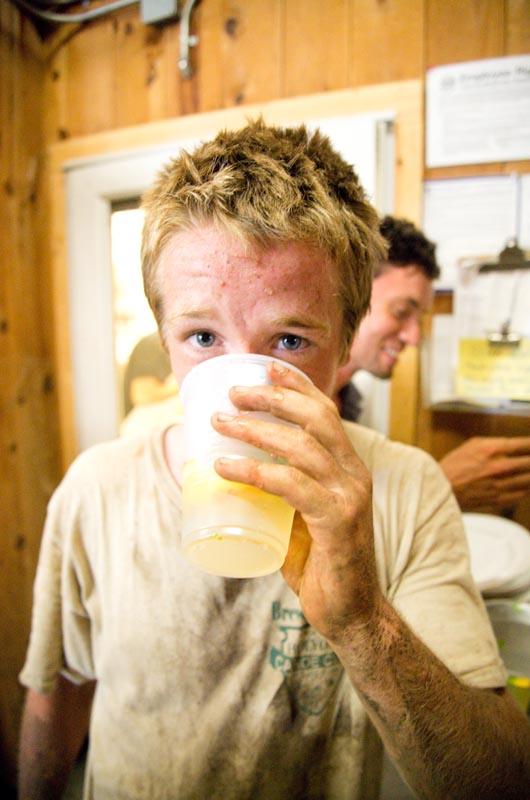 Lucy Leopold, who's spending her first year as a field hand at Morning Glory agrees. "It's amazing," she says, adding that whenever Steph goes fishing, he prepares his catches for the lunches.
Mary Van Noordennen and Kyle Sweeney talk about the sense of community the lunches foster. "We're all split up in the morning and then get together at lunch," Ms. Sweeney says.
"It helps me work harder in the afternoon," Lydia Hall adds.
The staff lunches are the creative inspiration of Simon Athearn, Morning Glory's chief of operations. "Before these lunches, many would to drive into town for lunch, covered in dirt, and I thought we could do something better."
He got the idea in 1996, when he worked for Michael Brisson of l'etoile in Edgartown who prepared regular employee dinners to introduce new specials and provide culinary insights.
Today is first-year field worker Keara Heavener's 20th birthday. Chicken is her favorite dish, which is why Steph made it the main course this afternoon. The line shuffles along and everyone comes away carrying dinner plates heaped with food, vertical mounds of chicken and potatoes topped with vegetables, vegetables topped with salads, and salads topped with bread.
A smiling Robert Lionette, who oversees the kitchen, is an approachable calm presence in the midst of this flurry of activity. "The people who grow the meal are also partaking. Everyone is required to stop working for a full hour. It's a respectful way to structure a workday. You can't preach building a family. You have to do it by breaking bread together."
Mr. Pond, a contagious smile under a cap, takes a momentary pause. "Kale comes off the field in the morning and at 10 a.m. it's in the soup pot. I'm here to utilize the product, and there's always an abundance." And with that he's off to check the ovens.
The serving pans have been emptied. Everyone has dispersed and many are sitting on the porch benches and tables on the street side of the farm and engaged in summer talk. There's a chorus of Happy Birthday Keara. Just before everyone goes back to work to begin their afternoon tasks, the birthday girl asks whether they should all meet at State Beach or South Beach after work.
In the kitchen, Mr. Pond is satisfied. "There are so many different benefits," he says. "A chance to take an hour to sit down and rest, to get energy back... and this creates a community. You can work for the same company, but be yards apart." He smiles. "We're only going to be as good as the people who work with us — and if I can put a smile on someone's face by making them lunch, it's worth an hour of my day."