Sheriff's Meadow Foundation is the local land trust for the Island of Martha's Vineyard. Our mission is to conserve the natural, beautiful, rural landscape and character of Martha's Vineyard for present and future generations. We are governed by a board of directors which represents the year-round and seasonal communities of the Island. We own 2,000 acres of conservation land across the Island, including land in each of the six Island towns. We protect another 850 acres of land with conservation restrictions.
Our lands range from tiny woodlots on Chappaquiddick, to groves of ancient beeches at Cedar Tree Neck, to the sweeping fields of the Quansoo plain, to frostbottoms filled with thickets of scrub oaks, to bogs where sundews quiver on the peat, and to the long sand bars of Little Beach, where every night a thousand screaming terns wheel about overhead. Each of these lands has something unique to offer.
To improve how we care for these lands, in 2010 we adopted a 10-year strategic plan. That plan has three major thrusts. The first goal is to make our properties more accessible and better known, and more welcoming, and more used by the community.
A second goal is to support local farms.
And a third goal is to create a robust educational initiative.
You might ask then, does any one of the Sheriff's Meadow properties do all of these things? Is there any one property that has a natural, beautiful, and rural landscape and character? Is there any one property that combines accessible trails, support for local farming, and educational use?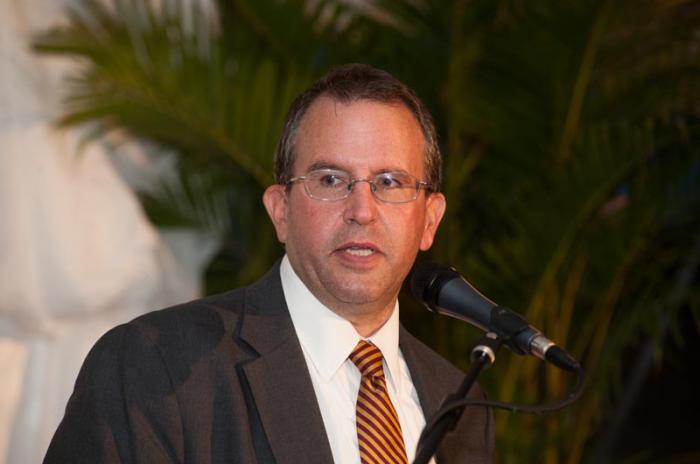 Nat's Farm, where Sheriff's Meadow Foundation held its annual summer benefit Monday night, does it all.
First, Nat's Farm is crossed by a well-used trail network. People walk on the trails, ride bikes on the trails, and ride horses on the trails. Or you can use the land as a base for a much longer horseback ride, or bicycle ride, in the State Forest, right next door.
Second, Nat's Farm is just that – a farm. For generations now, there has been a horse farm on the property and today Misty Meadows farm leases part of the land. Much of the north pasture of Nat's Farm is leased to a partnership of Mermaid Farm, owned by Allen Healy and Caitlin Jones, and North Tabor Farm, owned by Matthew Dix and Rebecca Miller. Right now these farmers are growing buckwheat in the north pasture, but often they grow hay. We also intend, in the next year or two, to lease out five more acres to a farmer who can use the land to grow vegetables.
Third, Nat's Farm has educational use and educational potential. Last year we received an Edey Foundation grant to start an education curriculum for Cedar Tree Neck Sanctuary. We used that grant to hire Rebecca Solway to prepare that curriculum. Rebecca was once the education coordinator for the Felix Neck Wildlife Sanctuary, and she now is a fourth-grade teacher at the West Tisbury School. Rebecca created a curriculum that met with acclaim from school officials. What she has created will be used at Cedar Tree Neck and also at our other properties around the Island.
At Nat's Farm in particular, the West Tisbury School uses this land for its physical education program. Every year, on Games Day, all of the students from kindergarten through fifth grade do a one-mile loop through the farm.
Nat's Farm also has attributes reflecting work that Sheriff's Meadow Foundation has been doing for a good long time. There are beautiful, scenic roadside views. There are rare orchids that grow in the meadow. The rare northern harrier hunts over the fields. The past year has been a good one on many fronts. We are two-thirds of the way towards completing our restoration of Sheriff's Meadow Sanctuary and we have one more season of work before us.
We have identified a comprehensive scope of work for a complete, first-class restoration of the historic Hancock Mitchell House, which is a key part of the rural, beautiful Quansoo landscape, and we are privately raising money for that effort.
We have goats eating invasive plants out at Cedar Tree Neck Sanctuary. These goats are very hungry and very effective, and we want to expand this effort next year and in years to come. In fact, we think that this is a great way to help conservation organizations join with local farmers.
There is a common theme in our education program, and in trails, and in support for local farms. That common theme is our desire to connect people to the land.
It is that connection, a love of nature, a love of every season's change, of ladies' tresses in the summer sun, of sumac in the autumn blazing red, of lichens on the weathered bark of oaks – it is the love of these things that we hope to instill in those who visit our properties. It is this connection with the natural, beautiful, rural heritage of this land, of this glacial Island, out in the Atlantic Ocean, that you help to instill in every one who sets foot on a Sheriff's Meadow property.
Adam Moore is executive director of the Sheriff's Meadow Foundation. This was adapted from his remarks at the foundation's annual summer benefit, held Monday, July 14, at Nat's Farm.