Throughout her life, Fanny Howe has consistently chosen to do what she loves most, never expecting to be compensated, much less be read or appreciated. She has lived a life of letters, writing poetry for her own enjoyment and inspiring others to do the same.
That's why when the Poetry Foundation called to inform her that she'd won the Ruth Lilly Prize in 2009, an award that includes a $100,000 check, she was shocked. She had never read a review of her own writing, and had little idea of how she had been received all these years.
"I never think of the reader. I never think anybody is going to read what I write, so it was more like this can't be happening, there is somebody out there and I didn't know they were there," she said.
The prize is awarded each year to a poet whose "lifetime accomplishments warrant extraordinary recognition."
Ms. Howe has published more than 20 books of poetry and will give a reading of some of her latest works this Monday night at an evening hosted by the West Tisbury Library and the Martha's Vineyard Film Society.
Ms. Howe raised three children, but says she's always lived like a student.
"It was life-changing," she said of the prize. "I had been living like a rat for so many years. I still have some of the money left because I am scared to spend it."
At the reading, which she shares with fellow poet and friend Jorie Graham, Ms. Howe will share new poems included in a book set for release next May. She will focus mostly on those with a narrative structure, because they are best to read aloud, she said.
"It's better to be narrative for an audience. Short poems tend to be kind of mysterious and to require a kind of speech beforehand." She's not a raconteur, she said, so she'll go without the introductory speeches.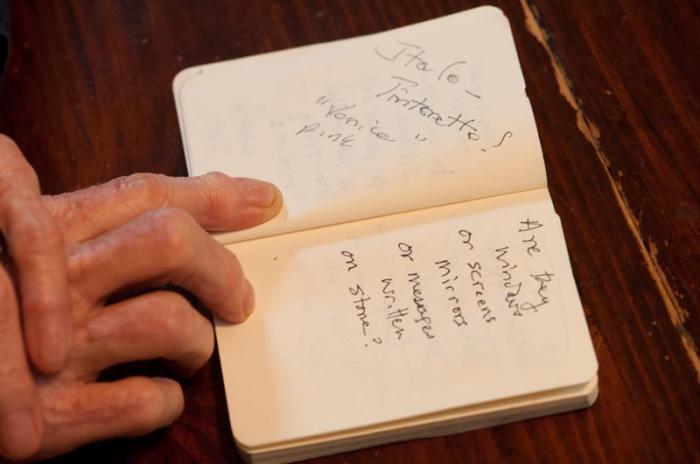 Ms. Howe has owned a house off State Road in West Tisbury for 20 years, but she has done a great deal of teaching and traveling. She currently teaches at the University of Massachusetts (Boston), where she prefers to teach courses in fiction over poetry. "I don't like picking poems apart," she explained. "It almost ruined poems for me when I was in high school, to just rip apart poems, so I have no interest in participating in that."
Publishing her work with small presses means that her poetry isn't picked apart for publication. "I can just sort of hand the manuscript over and say, this is it and don't interfere." In addition, small publishing houses are faring better than the larger presses, and they allow her to select the images for the covers of her books.
Poetry has been a way of life as much as a vocation for Ms. Howe, characterized by many as an experimental poet. She carries around a small notebook at all times in which she'll sporadically record ideas, thoughts and inspirations. She writes constantly, if impulsively.
"I have always been a kind of scribbler writer, like if I had been a painter, I would have been a sketch artist. It's the next thing to being insane, something just comes to my mind and I write it down. It's almost like hearing voices."
She likens the practice of poetry to jazz music. "I would say that's the most like it in contemporary life, it's improvisatory, it's sort of mystical, you can't be sure of where it's going."
The place where an idea comes to her also sticks in her memory, even after she's constructed a full poem out of it. "I usually remember where I had the thought, where it first came to me," she said. But she doesn't remember when or where she revised it. That part of the process seems to leave less of an impression. "I remember the original moment of writing, but nothing afterwards."
For years Ms. Howe avoided the computer and revised her poems solely on paper. But now, she says, her hands are "all deformed from writing, so it hurts," and she's begun typing up her poems into a word processor.
Though her poetry is often written in first person, she says it's not personal.
"It's much more as if there is somebody beside me, another figure or presence beside me. I think of it as a secondary spirit." She and her secondary spirit create best at dawn when her mind is most active.
Her love of Martha's Vineyard has to do mostly with the place itself, the natural beauty of it, she said. "So I tend to come here to hide away rather than to go out."
One of her earliest books of poems is titled The Vineyard, and she plans to read from it on Monday. She tried a Vineyard winter in Vineyard Haven a few years ago, but the fog horn almost drove her crazy, exacerbating her loneliness.
"That's because I was working on a bunch of projects alone, so it was too much solitude," she said. "At least here, [in West Tisbury], I know the birds and the trees are here with me."
The Hut

Up the hill is a hut made of sound
where two windows rhyme
and the tiles stay on
because they are nailed to a dream.
The dreamer wonders: Can this be mine?

The floor is solid and straight
and is amber from sap.
The walls don't leak or let out heat
from gray embers in the grate.

This is the original home
at the heart of brutalist design.
No storm can slam its shape apart.
No thief can carry it off.
It dwells in ashen buildings where the present sleeps.
— Fanny Howe
An Evening of Poetry with Fanny Howe and Jorie Graham begins at 7:30 p.m. at the Martha's Vineyard Film Center, Tisbury Marketplace, 79 Beach Road in Vineyard Haven. Tickets $15 or $10 for members. Call 508-693-3366.