For his One Hundred Town Tour this summer to promote his latest film, Northern Borders, Jay Craven makes it clear that this is a purposefully small town circuit.
"In the fall we'll take it to the cities, Boston, New York, but this is a small town film, so we felt it should first be shown in the small towns of New England."
On Thursday, August 8, the film screens on Martha's Vineyard at the Film Center in Vineyard Haven.
Northern Borders, a "Vermont Western," wanders mournfully and respectfully through the lives and land of the Kittredge family of the Northeast Kingdom area of Vermont. Austen Kittredge (Seamus Davey-Fitzpatrick) is the reluctant ward to stiff-lipped and long suffering Abiah (Genevieve Bujold) and Austen Sr. (Bruce Dern), "the meanest old bastard in Kingdom County." The film is based on the novel by Howard Frank Mosher.
Northern Borders is Mr. Craven's sixth feature length film, and his first to employ an intensive collaborative involving 20 film professionals and 26 college students. Mr. Craven, a film professor at Marlboro College, was inspired by the school's commitment to "engaged education."
"In an age when small liberal arts schools are increasingly unable to maintain funding, and more schools are moving toward low-residency, online teaching, long-distance education, you have to hand it to [Marlboro]," he said.
Mr. Craven largely hand-picked the students who joined him at Marlboro for a semester away from their home schools. After a week workshopping the script at the Sundance Institute and a six-week pre-production period at Marlboro where the students and professionals received help in everything from script edits to casting decisions, the on-site filming began. Mr. Craven immersed his students in a variety of roles including assistant directing and editing so they could have a range of experiences.
"I know so many stories of people that head to L.A. and get jobs as boom operators, or going on coffee runs for the crew ­— and five years later, they're doing the same thing."
Mr. Craven intends to engage the same process in the production of his next film to be based on the Guy du Maupassant novel Pierre et Jean. In keeping with the theme of Northern Borders, that story also centers on family secrets, painful revelations and salvation through endurance. Mr. Craven intends to film somewhere on Cape Cod or the Islands.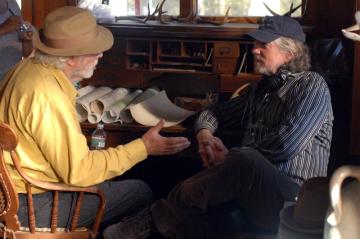 "We're still scouting locations, I'm looking at Nantucket . . . but I have leads on two schooners on the Vineyard that I'll need. So who knows."
Mr. Craven wrote much of his latest adaptation while spending an October in Chilmark in 2012. He has a long history with the Vineyard.
"I first came to the Island with my girlfriend when I was 16. Back then, you could still camp on South Beach, fall asleep in the dunes and wake up to the sun rising over the water."
"It is the most relaxing place [for me]."
As he tours Northern Borders through the small towns across New England, Mr. Craven hopes to advance the idea of a unifying culture. He focuses on the similarities in New England towns rather than the differences. "People don't realize that northern New England has a lot in common with southern New England. That the Vineyard is a lot like Vermont, for example."
Northern Borders explores the preservation of tradition, folklore and family mysteries, along with the complexities of the simple life in the face of swiftly advancing technologies and shrinking borders. Mr. Craven commits himself to place-based cinema, highlighting the beauty and emotion familiar to this particular part of the world, and he employs individuals who are driven and optimistic. There is a purity to this method that is reflected in the work he produces.
Jay Craven will screen Northern Borders at the Martha's Vineyard Film Center in Vineyard Haven on Thursday, August 8 at 7:30 p.m. and an earlier film, Where the Rivers Flow North (another Mosher adaptation), on Wednesday, August 7. There will be a Q&A with the director after each film.