Early afternoon on a hot and humid Monday. Between moments of calm, there is an ongoing flow of summer-garbed people coming and going, checking on books they've ordered, renewing books, searching for something new to read and DVDs to watch. But no one comes in to the West Tisbury Free Public Library without his or her entrance being noted and acknowledged. Familiarity is instantaneous, and all visitors — young and old — are received with hushed welcome.
Being in the small, temporary library is like being in a congenial 200-square-foot bubble, a sort of snow globe that flutters with cheery affability. It is a compressed space that holds 2,000 books and 1,500 DVDs, serves as a passport acceptance agency, provides scanning, faxing, Wi-Fi, and computer support. All this in two main rooms, each about the size of a piece of toast.
"It's a big adjustment for all of us," library director Beth Kramer says. "The most important thing that we offer is our service . . . We were fortunate that we joined CLAMS when we did. It enables our patrons much more control when it comes to ordering, renewing or downloading materials. But we're always happy to get anything anyone requests in any way that works for them — so if you are not comfortable using a computer, just let us know."
When strangers brush by it is socially incumbent to nod and smile. Turn sideways to allow someone passage through the short book-lined hallway. Finagle a place to wait until the checkout moves forward.
This Monday is a busy afternoon of quick entrances and exits. Jane Brown rushes in to pick up a book on hold for her mother. Hugs and hellos. An English teacher from New York city comes in to return one stack of books and check out another. Amy Kurth inquires about a DVD that demonstrates belly dancing. Here an Island visitor, there an Island visitor. Susan Silva appears carrying a vase filled with an arrangement of sunflowers from her garden — a task she volunteers for on a weekly basis. Linda Doane from Panache Salon next door comes in to use the Internet.
Laura Colt, the consistently pleasant and oh-so accommodating head of circulation, is on the phone trying to locate a missing book on parenting. Her voice carries a smile even as she reads off the numbers of the missing book.
Straw-hatted Marcia Moss engages Ms. Colt in a discussion about the library's renewal policy. The conversation then turns to different books recently read and enjoyed.
"This is the most unusual library in the world," Ms. Moss says. "Every summer when I come in I get such a welcome. Everyone knows your name here."
There are three at the counter of four computers. Eleven-year-old Daniel Rivard sits at the computer closest to the entrance, and is so engrossed in the game Minecraft, he remains undistracted by the activity around him. A lone figure sits in the rocking chair in the DVD room reading the day's New York Times that's provided on the newspaper rack. Children's and young adult librarian Nelia Decker, keeper of the best and broadest smile, appears in the front room waving the missing parenting book.
No one seems noticeably affected by the dramatic size change since the library closed for renovation and expansion and moved its operation to Middletown Village in North Tisbury. (The new 9,500-square-foot space is scheduled for completion early in 2014.)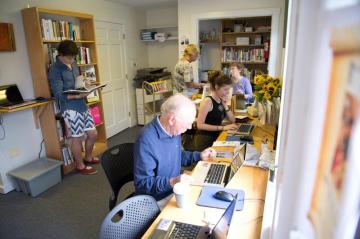 Sarah Gund offers: "I view this as an oasis that links me with my life in New York." She explains the convenience of not having to bring "all that 21st century technology" with her from the city. "This is a great resource. Our grandchildren and their mothers come here and find this to be a tremendous resource. To me, it's a community center as well."
With the grace and finesse of a well-practiced hostess, Ms. Kramer moves from person to person in a connect-the-dots pattern of greeting. She takes a moment to sit down next to Ms. Gund for a friendly exchange, then moved to the children/young adult section where she has an animated chat with regular seasonal residents Tommaso Bertini and his family. A resident of Florence, Italy, Mr. Bertini says, "Outside of our country, this is our favorite library."
Circulation assistant Amy Hoff is at the legal-pad sized desk when her eight-year-old daughter Hannah comes in to say hello. A woman who has just come in comments how much Hannah has grown. Ms. Kramer asks someone if they have a CLAMS card, and says, "Let me know if you need any help finding anything. Very good to see you," she calls out to another visitor. All questions are given consideration, and all anecdotes listened to with uninterrupted attention.
This is the background music that softly filters through the small space, along with the thank yous and have a nice days, the hellos and goodbyes and the every-so-often laughter.
Ms. Kramer sums it up: "The secret ingredient of the West Tisbury Library is that everyone here loves to help people and even though we are a little cramped right now, we will do whatever it takes to meet our community's needs and desires."