Lucy Thompson lives on Spring Moon Farm off Lambert's Cove Road, a here-an-oink, there-an-oink working farm. It requires all the dawn-to-dusk responsibilities involved with raising cows, sheep, chickens, ducks, pigs and other animals, plus all the daily work of maintaining a lush garden that tumbles over with herbs, melons, squash, and a variety of vegetables.
"This is not a life style. This is a way of life — a way of living...," her mother Liz Thompson told the Gazette several years ago. "We're taking from the past a way of life and trying to clear a path for the future."
Fourteen-year-old Lucy knows this.
One of Lucy's tasks is harvesting the garden's crops to prepare dishes for the family several times a week. On this day, she walks barefoot through the garden with her 18-year-old brother Oscar, and pulls out zucchini the size of bowling pins. After a stop at the greenhouse chicken coop where she collects duck eggs, they bring their bounty into the kitchen.
Lucy leaves much of the conversation to Oscar, who speaks about the farm with an easy, earned authority. He will be leaving soon to study environmental sciences at Warren Wilson College near Ashville, N.C. Oscar does everything from tending the garden to clearing land to taking charge of his approximately 150 bantams and laying chickens in the greenhouse coop he built.
The farmhouse is in the process of expansion and is scattered with comfortable personal clutter. Pictures of birds hang on a string stretched across one section of the room. A bell jar filled with flowers sits on the kitchen window sill. Clustered on a narrow shelf above the kitchen counter are small jars of honey, vanilla, spices, boxes of Kosher salt, bags of Kelp Granules, tea, Jim's organic coffee, a camera, binoculars and a Wilderness Trip cap.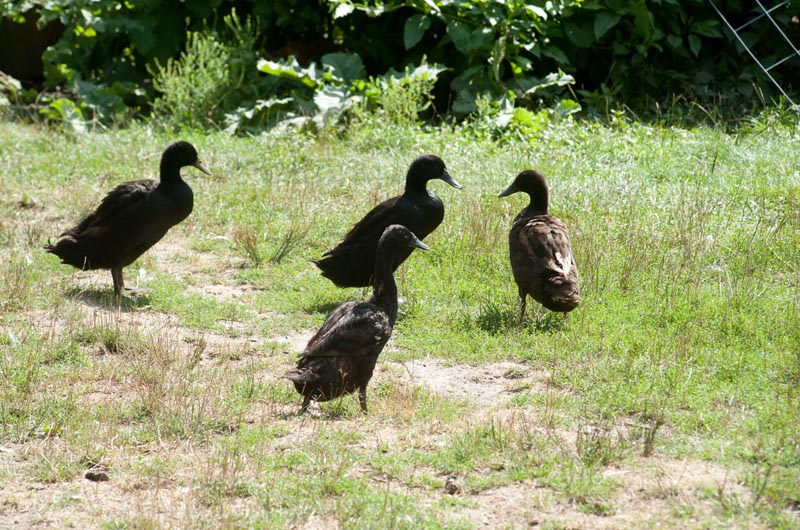 With a nonchalant confidence, Lucy begins making zucchini bread from an aged recipe by Phyllis Papp taken from a League of Women Voters cookbook. The recipe is posted on the refrigerator door.
"Nellie Mendenhall vintage," Lucy mumbles and notes her adaptations, "like less sugar and plenty of chocolate chips."
"Breakfasts and lunches have become zucchini breaks," Oscar says, leaning over the counter to critique, provide details about the farm and make Lucy laugh.
Lucy spins around and the mixing bowls, measuring cups and a set of four small attached bread pans appear on the counter. Another turn around and the ingredients are set out.
"No raisins," Oscar calls out. "No raisins. No nuts."
Lucy nods. With small assured movements, she first cracks three duck eggs into a small mixing bowl to check that they're not too old, then transfers them a larger ceramic mixing bowl and begins beating them with a table fork. The recipe calls for four chicken eggs, "but duck eggs are gooier," she explains. "We have way too many duck eggs," she adds.
Oscar, whose ongoing quips and big-brother banter seem to goad Lucy out of a natural shyness, takes the whisk to use for the cows' milk. Between various self-imposed distractions, he hovers nearby watching his sister, casually agreeing and disagreeing, but without any real conviction. Every so often she orders him out of the kitchen, but also, without conviction. The two share a mutual admiration that makes being in their company a pleasure.
The dry ingredients — unbleached flour, sugar (less than the recipe lists), salt, baking powder, baking soda, a "guesstimate of cinnamon," and nutmeg — are mixed in a separate bowl. As if she's talking to herself, Lucy mutters, "I love nutmeg in weird things," and stirs the dry ingredients into the bowl. It's time to grate the zucchini, but — ah, yes — she then remembers to preheat the oven to 350-degrees.
She rests an elbow on top of the box grater, shreds two cups of zucchini and mixes it into the batter. "And it freezes so well," she says.
When it is suggested that she might make a double batch she says, "I don't have the sanity to make a double batch."
Oscar says he remembers his mother baking bread.
"I remember baking bread with her," adds Lucy.
"She made more before you were here," Oscar says.
Lucy pauses. "Sometimes when I'm with Dad and we're bored, we'll bake a cake."
After the chocolate chips are added and a handful of raisins snuck into the batter, the pans are filled and she puts them into the oven and sets the timer. She unconsciously adds sound effects to different actions ­— deep sighs, or an "arrgh" when the timer signals the baking is complete.
The bread is a huge success, moist and delicious. Oscar takes a slice. He claims the chair by the window as his and sits down to enjoy it as he reads through a Stromberg's Chicken and Game catalogue.
"He's so bossy," says Lucy. Then as an aside adds, "But he's pretty cool."
Phyllis Papp's Zucchini Bread
Adapted by Lucy Thompson
3 duck eggs
1 cup safflower or olive oil
1 cup sugar
3 1/2 cups unsifted white flour
1 1/2 tsp. Kosher salt
3/4 tsp. baking soda
1 1/2 tsp. baking soda
2 cups grated zucchini with peel
Cinnamon and nutmeg
Chocolate chips
(and if Oscar isn't looking, walnuts, raisins)
Bake at 350 degrees, 50-60 minutes.