After an extended search that involved a large contingent of law enforcement from up-Island and beyond, Chilmark police arrested an Oak Bluffs man Tuesday for assault with a deadly weapon.
Police chief Brian Cioffi said Steven Carlson, 49, turned himself in after an afternoon-long search that included the use of a state police helicopter.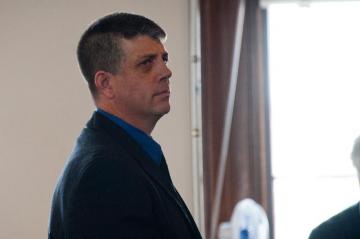 Chief Cioffi said in a press release that police received a call that Mr. Carlson was involved in an altercation with another hunter. During the altercation, Mr. Carlson allegedly pointed a long gun at another person and threatened him.
Chilmark police, assisted by Aquinnah police, West Tisbury police, state police, environmental police and the Wampanoag Tribe of Gay Head (Aquinnah) Natural Resources, searched a swamp near where the incident occurred.
Chief Cioffi said because the incident took place near the Chilmark School, the school followed a lockdown protocol.
School principal Susan Stevens told the Gazette the lockdown started around 1:30 p.m., with teachers locking all doors, pulling down window shades and keeping students in the classrooms. She said the teachers knew about the lockdown but students did not. The lockdown ended shortly before 3 p.m., and students were dismissed shortly after. "Everyone's fine, everyone got home," she told the Gazette Tuesday afternoon.
Chief Cioffi said Mr.Carlson turned himself in at about 7:30 p.m. after family and friends convinced him to go to the station.
He said parts of the incident are still under investigation.
Mr. Carlson posted bail of $2,000. He was arraigned Thursday morning in Edgartown district court, and a not guilty plea was entered on his behalf.
At the request of the commonwealth, conditions of his release included that he not contact the alleged victim and asking him to forfeit any and all weapons. Mr. Carlson told the court he had already given his only weapon, a black powder gun, to the Chilmark police.
Timothy Moriarty, Mr. Carlson's attorney, told the Gazette he had no comment other than that Mr. Carlson denies the charges.
A pretrial hearing was scheduled for Dec. 27.