Doors were opened at the Flying Horses Carousel Friday afternoon for a new arrival that took up residence in a back corner near a brightly painted cow statue.
"There hasn't been one of these here in a long time," said piano tuner and restoration expert David Stanwood, looking at the small barrel piano. Barely three feet tall with a handle on either end for portability and a crank on its left side, the instrument is well over 100 years old, built sometime in the late 19th century, Mr. Stanwood estimated.
A barrel piano like this one provided the musical accompaniment to the Flying Horses when it was first moved to the Vineyard in 1884 from Coney Island. Like a music box, it operates by the turn of a crank; like a piano, it makes music by hammers striking strings. The original Flying Horses barrel piano is still owned by the Martha's Vineyard Preservation Trust, which owns the carousel, but is in poor condition, Mr. Stanwood said. The barrel is warped and and likely not restorable.
"This one is in excellent restorable condition," Mr. Stanwood said, indicating the new arrival. He pointed out the faux wood grain pattern painted onto the panels to make the pine look like rosewood, and turned the crank on the side to produce a plinking, off-key melody.
The melody was unrecognizable, but even if it was in tune it probably wouldn't be familiar to American ears. A seal on the front of the piano shows it is from Barcelona and was made by Luis Casali. A handwritten list of songs it can play is on one panel; all 10 titles are written in careful, cursive Spanish.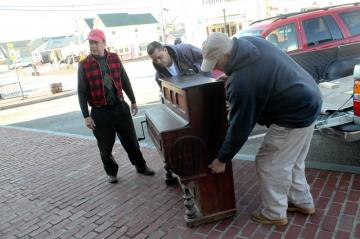 Mr. Stanwood learned of the Catalonian barrel piano two years ago from fellow piano tuner Jeremy Adams. Mr. Adams heard the instrument was set to go out with the trash. Did Mr. Stanwood know of anyone who wanted a barrel piano?
The answer was a no-brainer.
"It's unfortunate that a lot of history gets trashed," Mr. Stanwood said.
The Barcelona barrel piano now has a new chapter.