Amid lingering concerns about building size and parking — and growing impatience over a drawn-out process — the Martha's Vineyard Commission continued a public hearing Thursday on the expansion plan for the Vineyard Haven Stop & Shop store.
The meeting at the Tisbury senior center marked the sixth public hearing before the commission on the grocery chain's plan to replace its Water street store with a two-story building including a 30,447-square-foot supermarket and a 41-space parking garage. The overall building would be 48,964 square feet.
A major unresolved issue centers on plans for the town parking lot next to Stop & Shop. A Tisbury town committee has been formed to address the issue but a meeting planned for this week was cancelled due to snow. Construction and landscape plans for the supermarket hinge on what the town does with the lot.
Commission executive director Mark London said final offers provided by Stop & Shop would not be addressed Thursday because they were tied to the parking lot, and the public hearing would be continued.
The building is about 15 per cent smaller than the original plan and architectural details have been changed to make it fit better with its surroundings. "I appreciate the work you've done on the architecture," said commission chairman Fred Hancock. "I think you are to be commended . . . it does show that you are willing to work with us in getting away from the big box look and something that does at least look more like the neighborhood."
Parking and traffic impacts from the expanded store are all still concerns.
Another sticking point is a historic house at 15 Cromwell Lane which is said to date to the early 1800s. Stop & Shop purchased the house next to the existing store and plans to use the land for the expansion. In its final offers, Stop & Shop said it will relocate the house off-site or demolish it, noting there has been limited interest in moving the structure.
Mr. Hancock said demolishing a building more than 100 years old requires commission approval on its own.
"I've got to say personally the idea that you would ask to demolish that building would be very heavily detrimental in my appraising this project," he said.
"I think what we're saying is we don't want that house demolished," said commissioner Linda Sibley.
Geoghan Coogan, a Tisbury attorney who is representing Stop & Shop, said the intention is to relocate the house but there appear to be few viable locations in town. "If I can move it to West Tisbury, and maybe that's what I'll propose, it might be easier," he said.
As in past hearings, discussion circled back to location. Some who spoke including members of town boards, continued to say the store was too large for the location, while others argued in favor of keeping the supermarket in a downtown location.
Commissioner Ned Orleans pressed for other options. "What is it about this particular location down at Water street that is so important to Stop & Shop that you're willing to go through the kind of torture that you're going through now?" he asked.
"I think that's a good question, because I honestly ask myself that," said Deborah Farr, director of real estate for Stop & Shop's parent company, Ahold. She said the existing store is an eyesore and there were no other options. "It's a large investment but it's one that we're committed to," she said, and the benefits would be more for the community than Stop & Shop. "It's a good thing and to us it's worth it to be able to do that."
Mr. Orleans questioned Stop & Shop spokesmen closely about the possibility of an alternate location in the State Road business district, away from downtown.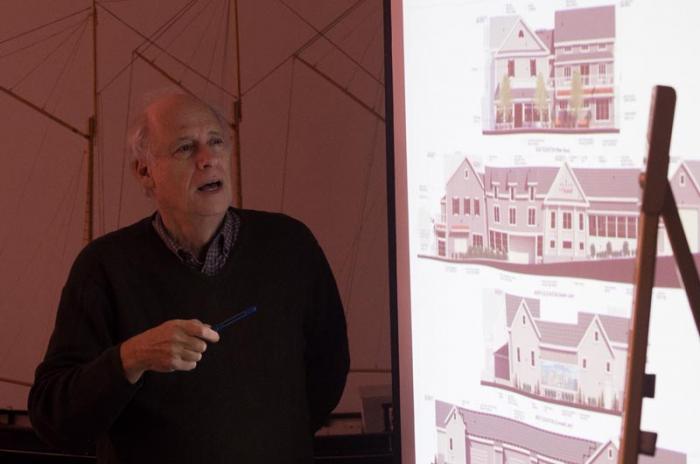 He said it all added up to much confusion. "There are so many angles to this whole project . . . nobody knows what's really going on in the whole business of Tisbury government, even the Tisbury representative to the commission doesn't know, that's me," Mr. Orleans said. "It seems to me we've been playing games, I'm tired of playing games. I would hope that my colleagues are tired of playing games. Why are we continuing to play these games instead of taking some other action?"
Mr. Coogan characterized the alternative location as a red herring. "Once and for all, there is no other site," Mr. Coogan said. He said Stop & Shop did look at an alternate location, "and talked for 15 minutes and said it doesn't work. It doesn't work and it's not happening so it should get out of everybody's mind."
He continued: "We've spent countless hours on this site and this project. We wouldn't be wasting our time if we were looking at another site." He said if the commission votes to deny the plan, Stop & Shop will go back to the drawing board.
Members of the public spoke on both sides of the issue.
"I'm here totally and completely only to support Stop & Shop," Vineyard Haven resident Lorraine Clark said. "It's going to brighten up that whole area." Others noted that Stop & Shop provides jobs for residents, especially high school students.
"I'd like to see a grocery store stay there," Vineyard Haven resident Nat Benjamin said. "It's a good location, people coming in can walk across . . . but I think the issue really is the size of this thing, and I think it's just so far out of scale with our community."
The commission continued the public hearing to Feb. 20.
A recent decision to amend MVC bylaws now allows commissioners who miss a public hearing to still participate in a DRI review. The new process went into practice Thursday. Commissioner Joan Malkin rejoined the Stop & Shop public hearing despite having missed one meeting. She watched a video of the proceedings she missed, Mr. London said.