It's the busy season for town clerks. In offices around the Island, they are preparing town meeting warrants and town election ballots while attending to a host of other regular duties that range from being keeper of the town seal to issuing dog licenses. In mid-April, for most towns, they preside over election day as chief election officers.
In most Vineyard towns, town clerks themselves are on the ballot every one or three years. But this year, making town clerk an appointed and not an elected position has been up for discussions in at least three Island towns. Edgartown voters will make that decision at a town meeting and election in April; Oak Bluffs and Tisbury discussed the option but ended up not putting it on the town meeting warrant.
According to the Massachusetts Municipal Association, since 1997 towns have had the power to change positions such as town clerk and treasurer from elected to appointed without needing approval from the legislature. As of 2007, 79 cities or towns have made the shift to an appointed town clerk.
On the Island, town clerks are an elected office in five of six towns. Chilmark residents voted in 2000 to make town clerk an appointed position.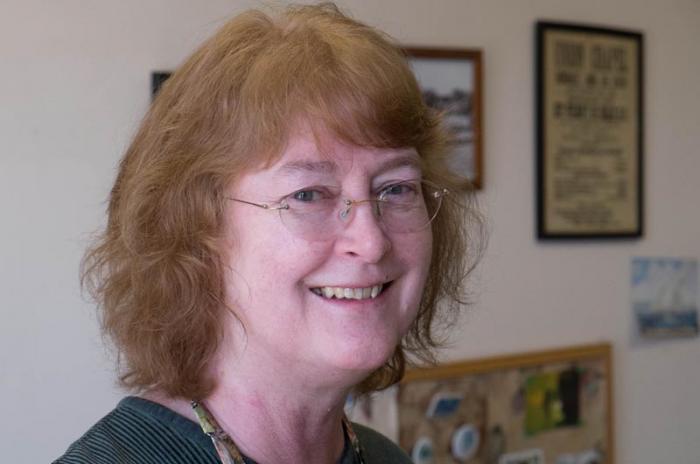 Oak Bluffs discussed making the change but ended up not going forward with it, town administrator Robert Whritenour said, noting that town clerk Deborah deBettencourt Ratcliff retired last year after 16 years on the job.
"I think that when there's a retirement in the position it's a good time to evaluate it," he said. "I'm sure there's pros and cons." He said the idea may come up again in the future.
Assistant town clerk Laura Johnston was appointed acting town clerk last year, and is on the ballot this year.
"Since 1951, Oak Bluffs has been electing their town clerks," Ms. Johnston said in an e-mail to the Gazette. "One reason I would like to keep the position elected is because I feel it is important that the voters have a strong voice. Our office must function in a manner that is transparent. Electing the town clerk is one way to maintain a balance in our town government."
In Tisbury, town clerk Marion Mudge is retiring after 30 years on the job. Two people are running to fill her spot.
Ms. Mudge said she had heard the issue might be up for a vote in Tisbury. But assistant to the town administrator Aase Jones said this week that while the town meeting warrant is not completed, she did not think the town clerk question was on it.
Ms. Mudge has a clear opinion on the matter. "I am violently opposed," she said. "I think that the person in the position of town clerk should be answering to the voters, not to a board which has its own interests. Which in this case, regardless of who they are, would be the selectmen." She pointed out that the selectmen themselves are elected.
"It seems to me if the public can elect the selectmen then they can elect the town clerk," Ms. Mudge said. "I don't think there needs to be any other allegiance there. It should be to the voters and to the town."
She said this isn't necessarily a new argument, noting that the issue came up and was voted down in Tisbury years ago. "This town traditionally has taken powers away from the selectmen as opposed to giving them to the selectmen," she said. "But statewide we now seem to be getting strong town managers and town managers like to be able to appoint the person to the office and not have the person elected."
She noted that the town clerk job requires some institutional knowledge, and that as an elected, not appointed position it can be easier to turn someone out of office if there are problems.
Town clerks do the usual jobs that people think of, Ms. Mudge said, from recording vital records to dog licenses. "We are the ones that have most of the permanent records of the town," she said. Town clerks are also keepers of the town seal — it can't be used without their signature — and serve as chief election officers in the town. They maintain bylaws and keep track of the open meeting law, conflict of interest law, campaign finance forms and appointments, and they swear people in.
The run up to town meeting and town election is the busiest time of all. "I have three piles that are on my desk that are foot high," Ms. Mudge said.
But in Edgartown, town clerk Wanda Williams has another view about whether the job should be appointed or elected. She came to the town last year to suggest making it an appointed job, citing the demands of the office and the "daily changes" in things like elections and keeping birth and death records.
Ms. Williams has been Edgartown town clerk for more than 20 years. She said that with an elected position, inexperienced candidates could assume the role while knowing nothing about the job. Elected candidates must live in the town; appointed candidates can be from other towns. "It opens the field to get people who have worked in the position, an assistant in another town who has knowledge of the rules and regulations," Ms. Williams said. "They might want to apply but they might not run . . . if they come from another town they can't run."
"It also will be a smoother transition for a new clerk coming in if they're appointed and have some experience," she said, noting that town clerks have to be up to date on things including conflict of interest law.
At Ms. Williams' last re-election, in 2012, she was the top vote-getter in town.
"When I first started people told me all I had to do was issue dog licenses," she said. "How I laugh. I wish that's all I had to do."
The town has discussed making the change once before. "It got shot down on the town meeting floor," Ms. Williams said. This year, "I hope they'll take it differently and consider what I have to say when I say it on town meeting night."