There is one public official in Oak Bluffs who has the complete freedom to lead a private life.
His office is his Eastville avenue parlor, where he sits often, legal pad before him and thesaurus at his side. When poetic inspiration strikes, Michael Achille, 81, begins stringing words together, two or three at a time until they form a poem.
"I'm just an amateur who writes things down," he said of his nearly 15-year career in free verse. "It's just something I do."
As the town's first poet laureate, he performs with enthusiasm a single official duty: write one poem for the town report.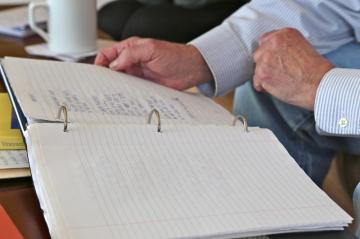 Mr. Achille was appointed to his post in January of 2013, and his poetry was printed in the town report for the first time this year. Titled Grand Illumination, it's one of a small group of poems that deal with Island and Oak Bluffs themes.
He chose the subject because it is familiar to all Oak Bluffs people, he said.
More often, though, he pens about his own personal experience, or the stories of those he's encountered in his life.
"I am 81 so I have lived a few years and with that you normally have interactions with people and happenstances that sometimes are memorable and you lock them away and hopefully they lead to words," Mr. Achille said.
After dashing off a few poems following his retirement to the Island in 1988, he sought a mentor, New York-based poet Dan Masterson, to guide him along. When a few years had passed, Mr. Masterson cut him loose, as he phrased it.
"I have been on my own ever since," he said.
His first book, It's What I Do, was published in 1999. His second, Scraps and Rags, came out in 2005.
He's got a third collection ready in handwritten form.
A harsh critic of his own work, Mr. Achille describes himself as a skilled waste-basketball player.
Most of his poems require many revisions, sometimes up to 40, he said. When he gets a poem right, it is filed in a binder, which now contains 140 poems, many handwritten in block letters.
Being a poet requires sensitivity to emotion, he said. "You have to be a real feeling person and just have an interest in things," he said.
He keeps a list of writing tips nearby, consulting it often. "No tears for the writer, no tears for the reader," reads one line.
"Never a day without lines," reads another.
He also advises aspiring poets to scribble an idea down on paper as soon as it materializes. "And then worry about expanding on it or using it in a poem later," he said.
Not one to participate in a literary scene, Mr. Achille prefers to write in private, he said.
"I write mostly for myself, for my satisfaction," he said. "If someone else gets some enjoyment out of it, fine, but I don't push myself out there at all, I don't join groups or enter contests."
He writes about family, the natural world, death and birth, big and small moments both. Most of his poems tell a short story and involve an unexpected twist at the end, often turning the poem on its head.
"I want to write something that gives you an impact," he said. "And usually impactful things have some dark edges to them."