When it comes to craft beer, Brion McGroarty is totally devoted.
"He's the beer nut," said his father, also named Brion McGroarty. The father and son duo opened MV Wine and Spirits six months ago with hopes of catering to a craft brew crowd. The store is located near the airport, next to Flatbread Pizza.
On Saturday, around 350 people arrived at the store to smell, sip and savor a vast selection of craft beer. Sample-sized pours from dozens of different craft breweries were served as people hoisted keepsake pint glasses. The event was free and open to anyone over 21, from expert brewers to distributor representatives to novice beer drinkers and everyone in between.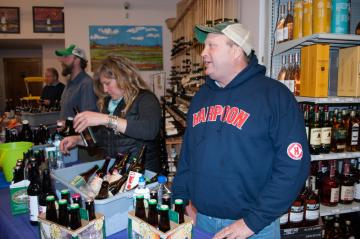 "There's a lot of bad beer out there and happily we have a store full of good stuff," the younger Mr. McGroarty said after the tasting party. "This was an opportunity to educate our customer base on different beers and it was definitely successful.
Rachel White, who lives on Martha's Vineyard, visited the store for the first time on Saturday. She tried about a half dozen of the beers before purchasing a six pack of one of her favorites, Purple Monkey Dishwasher Chocolate Peanut Butter Porter, created by the Evil Genius Beer Company.
"I've never had anything like it," Ms. White said.
David Rhoderick of West Tisbury also made his first visit to MV Wine and Spirits on Saturday. "I got the flyer and thought it was a good idea to come. I've never been here and it's close to where I live," he said.
Return customers came, too. Petey Berndt, owner of Coop de Ville, used the tasting party on Saturday as an opportunity to check out the McGroarty's current stock. "Brion helped me with my beer list at the Coop. He knows his stuff. We're going to have 100 beers on our menu for the summer," said Mr. Berndt. "This place has the best selection, it's unbelievable."
Mr. Berndt said the development of beer knowledge was helpful, too. "People are getting educated on the different beers, it's really a good thing."
The celebration featured many breweries including Offshore Ale Co., Bad Martha, Harpoon Brewery, Revival Brewing Co., Foolproof Brewing Co., Narragansett, Baxter Brewing Co., Newburyport Brewing Co. and Samuel Adams, among others.
"I think the most important thing is we turned people on to a higher level of beer," said the younger Mr. McGroarty. "It's always good to have someone try something new and have them like it."
And for those who couldn't make it this time?
The next craft beer celebration will take place this fall. There will also be a wine tasting on Saturday, June 7, from 2 to 5 p.m.