Sophie Shalhoub sat atop her horse Gigja under drizzling rain at Woodbe Farm in West Tisbury on Sunday. Ms. Shalhoub, who rode Gigja to the farm from Chilmark, was showing the pony as part of the Martha's Vineyard Horse Council's second annual open house.
"This is ideal riding weather for an Icelandic pony," she said.
Other horse enthusiasts seemed to agree as many people braved the rain to attend the event which featured demonstrations, a tack swap, pony rides and lunch.
"It's springtime in New England. If you don't like the weather, wait 10 minutes and it will change," said Bob Hungerford as he readied his Clydesdale, Jack, for a demonstration. Standing at 18 hands and weighing in at 2000 pounds, Jack had many admirers at his stall inside the barn. His partner, Duke, looked on.
"Hold out your hand, down low, fingers closed," Mr. Hungerford instructed onlookers as they approached the horse to give it a pat.
Back outside, West Tisbury seventh grader Ava Stearns performed a jumping demonstration with Denmark the horse.
"He's the Tiger Woods of horses, a horse of a lifetime," said Ava's mother, Sarah Doyle, as she emceed the event.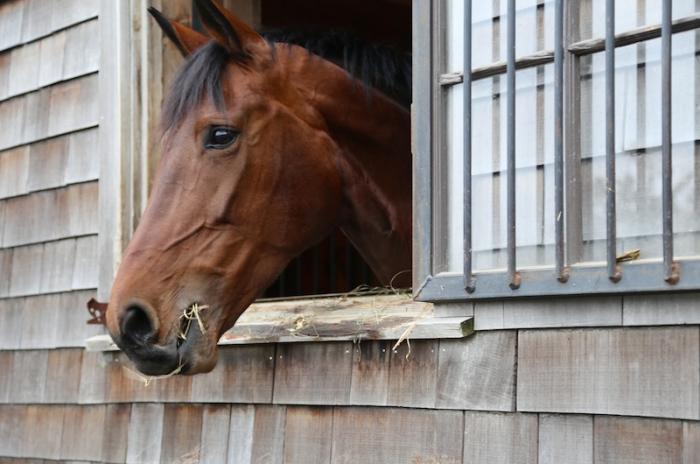 In addition to demonstrations, the open house provided information about what a horse council membership offers to the community. The council provides educational clinics, seminars and youth programs year-round on the Island.
"There's kids winning enormous national awards that don't get recognized a lot," said Tracey Olsen, vice president of the horse council. "It's an important organization to support."
For some, the event offered an opportunity to shop and swap at tables set up on the lawn which displayed used tack for purchase and trade — an affordable way to acquire gear for a sport that is often expensive.
And for young horse lover Amaya Hyde, the event brought her closer to her equine friends as she asked for yet another pony ride.
"She's allergic, but she just loves horses," said her father Sean Steves.