On a recent bright and sunny Sunday morning groups of people stood outside of Linda Jean's restaurant in Oak Bluffs, talking and reading the specials written on a whiteboard (orange cranberry pancakes, seafood omelette, bananas Foster French toast). There was a 25-minute wait for breakfast, but few people left their spots in line.
Inside the restaurant every booth was full and every seat at the counter was taken. Silverware clinked against plates and the waitresses moved quickly and effortlessly through their sections, offering friendly hellos to regulars and newcomers alike. A family finished their meal and got up to leave. As they were heading out, they bumped into friends coming in. The two groups hugged before parting ways.
"Sunday is our crazy day," waitress Samantha Bach said during a calmer moment on Tuesday afternoon. A mother and daughter were eating lunch at the counter. At one of the booths, an elderly couple enjoyed the daily special of liver and onions.
Ms. Bach celebrates her fourth anniversary working for Linda Jean's this month. She arrives at 5:30 a.m. to set up for her breakfast and lunch shifts. Doors open at 6 a.m., and in the summer months there are already people outside waiting.
"In July and August, every day is busy," said waitress Nadine Barrett. "It's an hour, two hours to get in for breakfast."
But people wait. That's because for many, Linda Jean's is a home away from home. With its purple exterior and gingerbread trim, it resembles a large Camp Ground cottage that just happens to have an 88-seat restaurant inside.
"It's really unlike any other place," waitress Heather McCarthy said. Mrs. McCarthy met her husband Joseph at Linda Jean's. He was a regular customer, and another employee set the two up. They've have been married three and a half years. Daughter Maggie is five months old.
Not all customers become literal members of the Linda Jean's family, but just about everyone who comes in joins the team in some way.
Customer Albert Alexander has his own coffee mug held for him behind the counter. It has two painted As on it (one uppercase, one lowercase). But you only get your own mug here, Mr. Alexander said with a grin, if you drink "a gallon of coffee a day."
Liz Salvo and daughter Emma, 5, try to come for lunch once a week. On Tuesday, Ms. Salvo tried the pecan pie — Linda Jean's has started serving homemade Eileen Blake's pies, which have been big hits.
"My favorite dessert is chocolate," Emma said, spooning through the last licks of her ice cream. Her favorite meal, she said, is grilled cheese, but on Tuesday she had the chicken fingers and a buttered and grilled hot dog bun (no hot dog). Ms. Bach nodded her head in understanding. The hot dog buns are great by themselves.
"Everybody knows everybody," Ms. Salvo said. "You build up a relationship with the waitresses."
"This is what a small town feels like," she added.
Marc Hanover opened Linda Jean's in 1976, purchasing the building with help from a group of local Oak Bluffs businessmen: Ben Cohen, George Cohen and Bob Mazza. At the time, Mr. Hanover said, restaurants closed during the off-season.
"[The group] wanted the town to have a place year-round that was open," Mr. Hanover said. "They were very supportive."
The men purchased the building from Nadine Barrett's aunt. Ms. Barrett was Linda Jean's first manager, and returned 15 years ago as a waitress. The restaurant space inside was half the size it is now.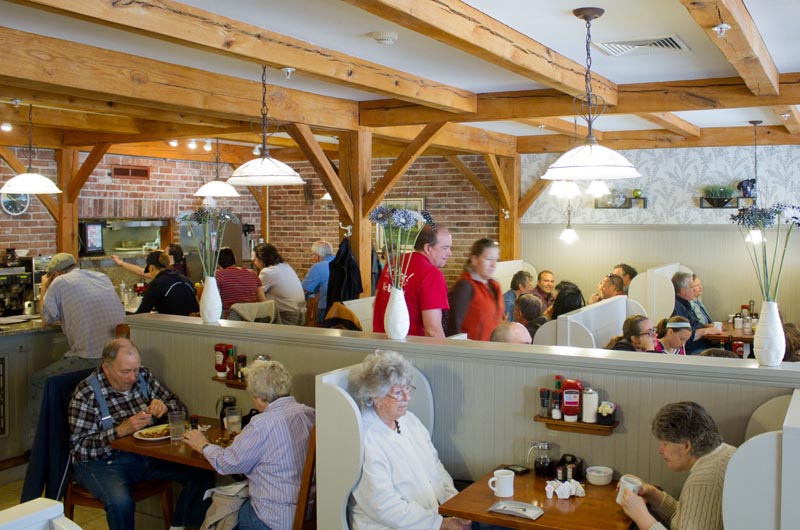 "We cooked out in the dining room, right up on that wall," Ms. Barrett said on Tuesday, indicating the eastern wall. "The counter was running parallel with the grill, so people would sit there and actually watch us cook their food. 'Are those my pancakes? Don't get those eggs on them!'"
The menu is loaded with comfort food and mealtime staples. Seafood comes from The Net Result in Vineyard Haven. Burgers and most other meat items come from across the street, thanks to Reliable Market's butcher Bobby Pacheco.
"It's down-home good food," Ms. Bach said with her Dallas twang. She's partial to the pecan waffle, and the Jacob — a plate full of veggies and home fries. Ms. Barrett likes the Sampson — two eggs, two pancakes and two sausage patties.
Dinner and lunch are served every day, although breakfast remains the busiest meal. Some people, Mrs. McCarthy said, convince themselves that it's served all day, telling her they were just sure they had pancakes at 4 in the afternoon last year. Breakfast ends at 11:30 a.m.
Next month, for the first time, the restaurant will serve beer and wine. Oak Bluffs selectmen approved a license at their meeting last week. Ms. Barrett said that overall the decision has been well-received by regulars, though some customers have protested the decision in light of the family atmosphere.
"You kind of have to now if you have a restaurant, so we're going for it," Ms. Barrett said.
The waitstaff said one of the hardest things about the job is learning that a regular has passed away. But they also get to watch families grow up.
"I see older kids start to come in without their parents," Mrs. McCarthy said. "You want to watch them but give them some space."
Sometimes the kids come in with dates.
"It's really cute," Mrs. McCarthy said. "They'll share a frappe and cheese fries."
"It's kind of a family setting, I think, for a lot of these people," Mr. Hanover said. "If the postman John isn't here at six, we get worried."