The bed curtains were red velvet back then, when Casey Blum was nine years old and on board the schooner Alabama for the first time. She and her cousin Jaime claimed a bunk together below decks, the same one they would claim for the next seven summers, a top-shelf nook tucked away on Alabama's starboard side. Below decks, it smelled of pine tar and linseed oil. And above deck, with the schooner anchored on its mooring in Vineyard Haven harbor, it smelled of the sea.
"It hasn't changed much since then," Casey said in a recent interview. "It's pretty cool coming back every summer and still smelling the same smells. It just feels like home to me."
Some things are different, though. For one thing, the bed curtains are now blue with white stars on them. And Casey, now 24, is about to embark on her first season as captain of Alabama. She's the first woman to captain the 90-foot schooner, and the youngest captain to sail Alabama since the ship began its second life on the Vineyard.
It's hard to imagine a better fit. Alabama has been a working member of the Black Dog Tall Ship fleet since 1997, when Capt. Robert Douglas and his team completed a rebuild of the 1926 Gloucester-style schooner. The boat sat on its mooring for 30 years before that. She was fitted out, according to a Martha's Vineyard Magazine story written before her first season, "to give schoolchildren the experience of a lifetime." Like Shenandoah, the 108-foot topsail schooner in the fleet, Alabama would be used primarily for weeklong kids' cruises and sailing schools.
"We are going to give these kids the feeling of sail, a feeling they will remember for a long time," Mr. Douglas said at the time.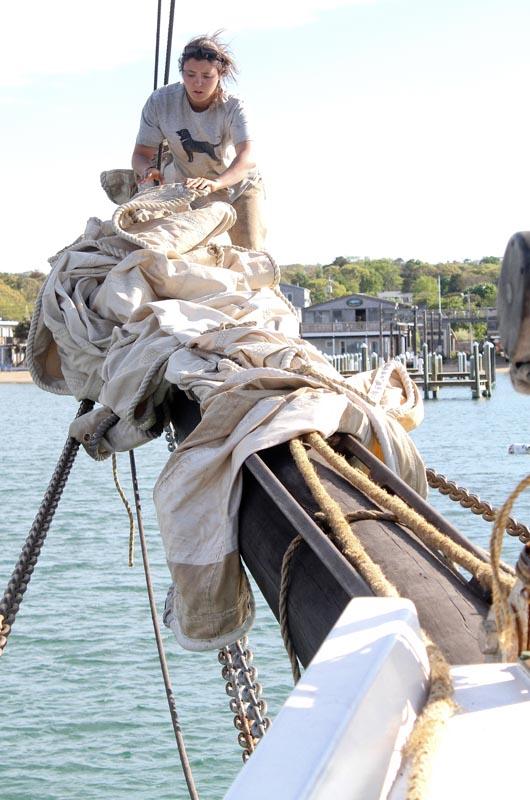 Two years later, Casey came onboard, a fourth-grader from Atlanta who visited Cape Cod every summer with her family. But she had never been sailing, not until her mom signed her up, along with her sister Tyler, and her two cousins for a kids' cruise during Alabama's second season.
"I think my mom was kind of looking for a way to get rid of me for a week," Casey said, grinning. "And [she] saw the kids' cruises and thought, that's a great opportunity."
It was, to say the least. It only took five and a half days at sea for Casey to get hooked on that "feeling of sail."
"It was just magical," she said of that first trip. "You feel like you're transforming, back in time almost, and it's just really cool. I remember looking up to the crew, like Nisa Webster, who still lives on the Island. I looked up to her so much and I thought wow, I want to do that some day."
Casey hasn't missed an Alabama summer since then. The Blums and their cousins returned as campers for years, making new friends on board and planning the next summer's trip so the group would all be on the same cruise. At age 16, Casey was too old to go on the kids' cruises. She got hired as a deckhand, working with first mate Ian Ridgeway — another camper who never left — and Capt. Morgan Douglas, Robert's son. She spent a semester sailing with the National Outdoor Leadership School (NOLS) and started studying outdoor education at the University of New Hampshire. By 2011, she had enough sea time to test for a captain's license. Casey was 21, but she'd already logged more than 365 days at sea.
"I wasn't sure at that point that I would use my license or what I would do with it," she said. But the Island environment is particularly conducive to getting a license at a young age.
"There's different opportunities here, to be honest, I'm not sure, in the rest of the world, if it's common," Casey said. "For me it just seemed like the right next step, so I did it."
And the next summer, she was Alabama's first mate. Ian Ridgeway was the new captain. And last year, when Ian began training for captaincy on Shenandoah, Casey started training for Alabama.
"[Ian] let me sail the boat, basically, and it was nice having him there as supervision, and a resource if I had questions," she said. After a series of conversations with Ian and Morgan Douglas, "everybody agreed that I was ready to at least take the next step." Casey will start captaining day sails and sunset trips this year, with Ian or Morgan on board for the weeklong trips. "Nobody was ever putting the pressure on me, like you have to be ready by this day," Casey said. Because the thing about wooden boats is there's always something new to pick up, some new quirk to note. Even after more than 800 days logged on the same familiar schooner.
"There's never a cap on the learning," Casey said. That's something she works to convey during the kids' cruises, as she and the crew teach the youngsters the names of Alabama's sails and lines (everyone must memorize all of them after a week).
Over the winter, Casey spent most of her time working on boat maintenance; sanding, painting and rigging.
"There's just a lot of preparation work after a long winter," she said. The first sail is this weekend. There's a day sail planned before the crew sets off to Hyannis to pick up a school group for a trip to Nantucket.
"I'm excited for this season to get going." Casey said. "I just love getting out on the water, and having a majority of the maintenance done, and just do what the boat was built to do, which is to take kids sailing."
Some kids are interested more in the swimming and the games when they're on board. But some are more interested in the sailing aspect
"We try to get them involved as much as we can," Casey said. "Basically shadowing the crew."
Not much has changed, after all.