Mary Bergeron, a hair stylist at Shear Inspiration in Edgartown, has cut, colored, scrunched and styled dozens of Vineyard brides-to-be in the past decade. Last month the 31-year-old Islander got engaged and began planning her own Vineyard wedding. And she found out quickly that she would have a long wait. "I started calling places and realized a lot had already been booked for this year and for next year," she said from the salon this week.
By many accounts the wedding business is booming on the Vineyard this year, with caterers, hotels and inns, florists and others who work in this growing cottage industry reporting they are busier than ever.
"It's all off the charts. We are very, very busy," said Jaime Hamlin, who owns V. Jaime Hamlin & Sons Catering and Party Design in Vineyard Haven. "We are booked this year through November and I'm feeling really happy about it," she said.
Janet Heath, director of special events at the Martha's Vineyard Preservation Trust, which rents four of its properties for wedding events, said the trust is booked solidly for June and September, the most popular wedding months on the Island, and October is already looking busy, too. "This year, 2014, is probably our busiest year since 2008," Ms. Heath said.
Jim Eddy, who owns Big Sky Tent and Rentals, confirmed the trend. "Numbers are up," he said. "This year is definitely the busiest year ever. It's busier than last year which was pretty busy so the trend has been generally upward," he said. "There were a couple of flat years in 2010, 2011 and 2012, but we're starting to come back and we are the busiest we have ever been."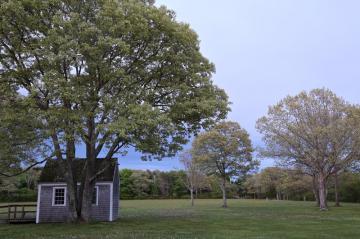 While there are few hard statistics to track, there is general agreement in the hospitality industry that the wedding business has become big business on the Island, most notably in the shoulder season months in spring and fall. Nancy Gardella, executive director of the Martha's Vineyard Chamber of Commerce, said the chamber has watched the Vineyard grow in popularity as a destination wedding spot. "People can get married in a lot of places but they are choosing Martha's Vineyard because it's a destination wedding," she said. "It's really good news for the wedding industry, and also for the Island economy as a whole."
Ms. Gardella said traffic is up this year on the chamber's website wedding pages. "We saw an increase in wedding traffic this year compared to last year," she said. She speculated further: "The Island is making more money this year from weddings, I suspect. House rentals are up, advanced sales for travel are up, restaurants are doing well . . . I think it will be a good summer. And all these weddings are great because it helps to extend our shoulder season."
In addition to business being up, trends reported this year include larger, more lavish weddings and longer lead times.
"June and September continue to be the strongest wedding months," said Lynn Buckmaster-Irwin, who planned her first wedding in 1996 and has been planning weddings exclusively on Martha's Vineyard for the past decade. "Brides also seem to be planning further in advance because every wedding season seems to be as totally filled up as it possibly can," she continued. "I am working farther in the future on weddings than ever before — and I've heard other wedding vendors say the same thing." She said she is already planning weddings for next year, "And we're getting some calls for 2016, too."
Ms. Heath and Ms. Hamlin both said wedding events are growing bigger and more expensive.
"We are seeing more of the larger 200 to 250-guest weddings, which is larger than the past couple of years," said Ms. Heath. "I don't know why, but it may have to do with the stock market," she said.
"Weddings are just so big," Ms. Hamlin said. "People seem to be inviting every single person they know to weddings, that and they have lots and lots of friends. I'm not even sure why the trend is this but I definitely have seen a bigger trend this year with more lavish weddings," she said.
Mr. Eddy said he has noticed changing trends in wedding decor. Rustic farm tables, which rent for $105 apiece compared to the standard six-foot rectangular tables which rent for $8 apiece, are in high demand. "Everyone wants the rustic farm look," he said. Floors are also popular, Mr. Eddy said, and people pay for expensive flooring to cover uneven meadows and hay fields. "It used to be people would put up a tent and walk on the grass but now people are requesting nice floors for the reception," he said, adding: "Lighting is more elaborate too. People want more lights and they're willing to pay for them."
The same can be said for flowers. Sharon Capen, a floral designer at MV Florist & Gifts in Edgartown, said this year brides have been requesting multiple centerpieces on each table. "It used to be just one, but now people are wanting more than one arrangement on a table," she said. While one arrangement can run anywhere from $50 to $125 per table, a grouping of flower arrangements runs somewhere around $200 per table, she said.
Innkeepers on the Vineyard are also reporting a jump in bookings. Scott Jones, co-owner of the Lambert's Cove Inn in West Tisbury, agreed that weddings seem to be growing in size.
"They used to be smaller or people did them closer to home but that's all changing. Especially in September and June. September is historically gorgeous on the Island," he said. "And everyone wants to be a June bride."
Mr. Jones said people also tend to tack on a couple of days to their stay. "People come to the Island for a wedding but make a vacation out of it," he said.
Back at Shear Inspiration in Edgartown, Ms. Bergeron took a phone call outside the salon. The call was wedding related. But this one wasn't about hair. On the phone, she told a friend she and her fiance have set a date for her wedding.
"October 2016," said Ms. Bergeron. "I'm just thinking realistically."