The Grey Barn Farm in Chilmark started with just three cows. Now there are 25 Dutch Belted ladies grazing the fields, as well as pigs and chickens. Eric and Molly Glasgow bought the property in 2009. The farm is known for its meat and produce, but perhaps most of all for its raw milk.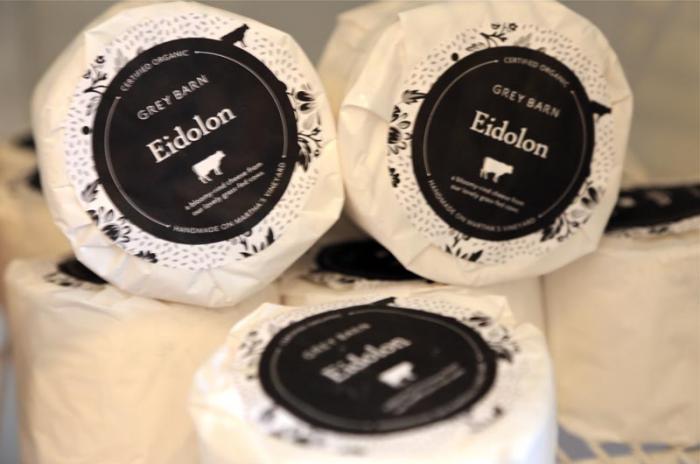 Now, Grey Barn is expanding into new territory, adding two cheeses to its list of products. Their Prufrock cheese takes its name from the T.S. Eliot poem The Love Song of J. Alfred Prufrock. The newest edition, Eidolon, is the title of a Walt Whitman poem. Both cheeses, but Prufrock especially, are exceptionally difficult to manufacture and require diligent care and attention.
At the moment, Grey Barn has about 1,500 Prufrocks in their "cave." Each one of these will age for six weeks, during which they will be cared for daily. As the cheese ages, the three farmers overlooking the Prufrock will wash each one with organic hard cider, which is also made right here in Massachusetts.
"Even in New England there are not many people making that particular type of cheese," said Mr. Glasgow. "It's a very labor-intensive process, so many cheese makers, particularly when they are starting out, don't necessarily want to do that. There are cheeses you can make that are simpler and don't require as much specialized handling or specialized equipment or specialized conditions for them to ripen appropriately. We've made it hard for ourselves, we're trying to do something that is a little more difficult."
Although Grey Barn has been making cheese since last year, they continue to rework their processes and recipes to adapt to changing conditions. The most difficult part of making cheese, according to Mr. Glasgow, is keeping the quality consistent. Great cheese requires great milk, and milk varies greatly depending on external forces that cannot always be controlled. In deciding the recipe for each batch, the farm's cheese maker, Jacqueline Foster, takes into account various factors that affect the milk. Some of these factors change with the season, but others change daily and require careful consideration.
"Developing the recipe is an everyday learning process," said Ms. Foster. "In every batch there are subtle changes in the milk because of the weather or the season or the feed for the cows or the grasses that are growing. These will affect the outcome of our cheese so every day we have to adapt our recipe to try to produce something that's consistent."
While there may be slight variations in each batch as the milk changes and the cheese goes in and out of season, thanks to Ms. Foster's expertise and the exceptional quality of Grey Barn's raw milk, all of the cheese meets a high standard. The Prufrock is supple with a strong smell. Beneath the bright orange rind is a luscious and creamy core. The Eidolon is a more mild option with a slightly salty taste, which gets creamy with age.
The farmers at Grey Barn may not be making the cheese-making process easy on themselves, but so far they are loving the challenge, and their passion has paid off.
"It's awesome," said Ms. Foster. "It's a labor of total love, and that comes out in the end."