At this time last year, Lizzy Plapinger was half way around the world, touring Europe with her band, MSMR. Despite the excitement of the international attention, it was also a bittersweet moment as it was the first summer ever she didn't spend some time on Martha's Vineyard.
Although Ms. Plapinger has never lived on the Vineyard year-round, her professional and creative careers were born here. As a kid, she attended the Chilmark Community Center summer camp every year, where she became friends with Derek Davies. The two bonded over a shared love of music and dreamed of starting their own record label, focusing on releasing seven-inch records.
When the two young campers grew up they attended different colleges, but the idea never faded and in 2008 Neon Gold Records was born. Today, Neon Gold is one of the largest independent record labels in the world, representing some of the most celebrated and innovative alternative pop artists such as Passion Pit, Haim and Gotye.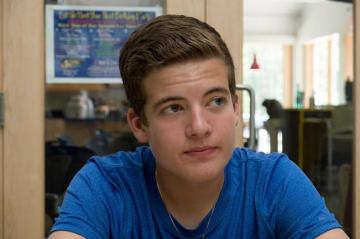 "We both always knew we wanted to work in music and pride ourselves on finding things before anyone else does," said Ms. Plapinger. "Pop, in all of its glorious forms, has always been our first love and we felt like there was all this amazing pop music that was too seemingly alternative and quirky for top 40, but too accessible for the left field alternative world. That's sort of our sweet spot."
As Neon Gold took off, Ms. Plapinger and Mr. Davies never stopped thinking about Martha's Vineyard, the Island that brought them together. "It was always a dream of ours to bring music back to the Island, and we fantasized about having a festival on the Island," said Ms. Plapinger. "About four years ago we realized that we had the connections that we needed to make that possible. We wanted to have a festival that would help to give back to the Island."
This Saturday evening, the Stars and Stripes music festival to benefit the YMCA will celebrate its fourth year at Flatbread Company, featuring a lineup stacked with Neon Gold artists. Great Caeser will play an early set, followed by Ms. Plapinger's band, MSMR. Charli XCX will also perform. Her collaboration with Iggy Azalea on the song Fancy is currently the top song on the Billboard Hot 100. The Knocks will close out the evening.
While in recent years it has been difficult to bring international acts to the Island, Ms. Plapinger was able to convince all of these bands to play Stars and Stripes for free, waiving their fees to support the YMCA. Thanks to the generosity of the artists, as well as a number of businesses and independent donors around the Island, including the Flatbread Company and the Beach Plum Inn, the YMCA is hoping to raise $100,000 at Saturday night's event.
"This festival is really great because it is really tough to have music festivals on the Island that actually turn around a benefit for a nonprofit," said Sarah Soushek, development director at the YMCA. "It is so expensive to bring bands here, but we have all of the accommodations taken care of. We are able to get donations to cover a lot of our expenses, so then we just need to pay for their travel. That's how we're able to make so much money and still keep the ticket prices low."
The Stars and Stripes festival will also give three of the YMCA's talented teen musicians the opportunity to share the stage. Before the Neon Gold artists play their sets, Kasey Stevenson will play She Looks So Perfect by Five Seconds of Summer, and Liam Weiland will be joined by Tessa Whitaker on Falling Slowly by Glen Hansard and Marketa Irglova.
While the teenagers are excited to open up the show, they are seasoned musicians and say they are not nervous about the performance. In addition to playing regularly at open stage nights at Alex's Place, the teen center at the YMCA, they have performed in front of large crowds at venues across the Vineyard and New England.
"I think people are going to be really impressed," said Tony Lombardi, director of the teen center. "Clearly they have natural talent. We like to think we're creating it, but really we're just nurturing it, which is what we are supposed to do."
Since Ms. Plapinger and Mr. Davies founded Stars and Stripes, the festival has become the organization's primary annual fundraiser. The money raised goes toward the YMCA's financial assistance programs as well as helping to provide free community programs, including those at the teen center.
"We decided to do the festival as a benefit and when we looked around, we got interested in the YMCA," said Ms. Plapinger. "It felt like such a natural and honest fit to raise money for such an essential organization. It felt like the perfect way to bring our two worlds together."
This years' festival will be a particularly special one for Ms. Plapinger because it will be her first time performing on Martha's Vineyard. Although MSMR wrote their first EP right here on the Island, Ms. Plapinger has never had the opportunity to play a show for her friends and family who reside here.
"More than any other Stars and Stripes to date, this is by far the most personal," she said. "To be able to perform at the festival Derek and I started, on Martha's Vineyard where we forged our friendship and business, in front of all our family and lifelong friends who have grown up with us on-Island, means the world."
The Stars and Stripes Festival will start at 7 p.m. on Saturday, July 5. To encourage guests to arrive early, the first hundred people to arrive will receive a prize at the door.