Just in time for peak season, the Oak Bluffs police department has promoted three police officers while hiring another officer to join the ranks.
Oak Bluffs native Nicholas Curelli was named sergeant last month after sailing through a grueling promotional process, police chief Erik Blake said.
A detective for the town since 2004, Mr. Curelli has excelled as an investigator, teacher, counselor and member of the Island drug task force and Martha's Vineyard Tactical Response team, Chief Blake said at a recent meeting of the Oak Bluffs selectmen.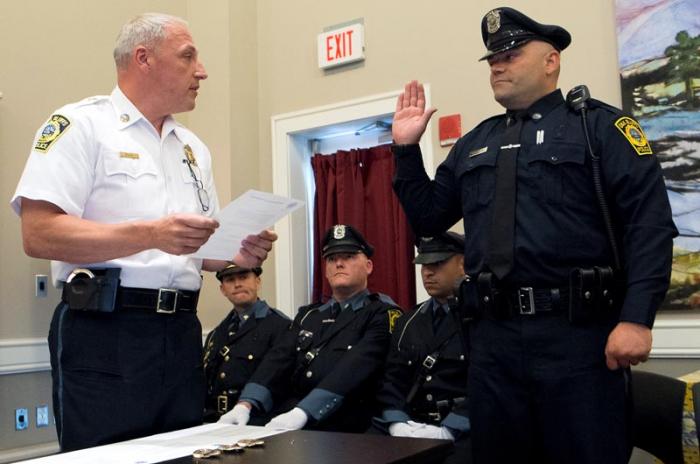 "Bar none, and I will say it on TV, he is the best detective on Martha's Vineyard," Mr. Blake said.
Sergeant Curelli earned a 93 per cent on the written sergeant test, while the national average is a failing score.
"The rank of sergeant is the hardest position to attain in law enforcement," Chief Blake said. Sergeant Curelli also received high scores from the outside assessment center hired to vet the three candidates for the sergeant position, as well as from the police chief and department patrolmen.
"I am honored to be one of those who said this guy should be a sergeant on our police force," said selectman Walter Vail.
Selectman Michael Santoro, a local businessman, also vouched for Sergeant Curelli, saying he has observed him in the toughest of situations.
"I have seen Nick go up to six to eight individuals, with tension at its highest, and talk his way down, which is what we want," he said. "He has got great character . . . we should be honored to have someone like that be able to stay in Oak Bluffs."
In another personnel change, Jason Marathas, a seven-year veteran of the Tisbury police department, was sworn in as a new Oak Bluffs officer.
"He already has close friendships within the police department, he comes highly recommended and he excelled in each phase of the hiring process," Chief Blake said at the meeting. The police chief also recognized Officer Marathas for his role in a rescue at the Oak Bluffs harbor last summer.
Selectmen voted to approve the appointment, and welcomed Officer Marathas to the town.
"That was a great, brave thing you did; jumping into the harbor to save that person," Mr. Santoro said.
In the fall, Oak Bluffs Sergeant Michael Marchand will take on the assignment of school resource officer at the regional high school. This is the first time the high school has paid for the position. In the past, it was a town-funded or grant-funded post, Chief Blake wrote by email on Monday afternoon.
Veteran officers Jeffrey LaBell and James Morse have been promoted to detectives in the department.