When a new ferry is delivered to the Steamship Authority around spring of 2016, it will bear the name Woods Hole.
At their meeting in Vineyard Haven Tuesday, boatline governors agreed unanimously on the name choice.
In voting, governors said it is the first SSA vessel to be named for Woods Hole, the main port for Vineyard-bound traffic which is soon to be the site of a major terminal reconstruction project.
"It's nice to have the new boat the Woods Hole because we have so many things that are going to take place there in the next four to five years," said Falmouth governor Catherine N. Norton, who advocated for the name on behalf of her community. Members pointed out some of the shortcomings of the other three name candidates, which were Quissett, Island Spirit and Vineyard Sound.
Ms. Norton said Quissett was too easy to make fun of. ("You're going to miss it, in Quissett," she said.)
New Bedford governor John A. Tierney said Island Spirit sounded too much like the name of a liquor store.
And Nantucket governor Robert Ranney said Vineyard Sound continued the pattern of Island-based names, which outnumber the mainland names.
"It's time for a Woods Hole," he said.
The board also heard a presentation on the freight boat's design, which is 95 per cent complete. The ferry will be 235 feet long, about 20 feet shorter than the Island Home, and roughly the same size as sister ferries Martha's Vineyard and Nantucket. It will accommodate 384 passengers and 55 cars.
The current cost estimate for construction is $43 million, which includes a $4 million allowance for contingencies, said general manager Wayne Lamson.
The ferry will replace the freight ferry Governor, and will ply both the Nantucket and the Vineyard route. But while the Governor and the Island Home have wheelhouses that face both directions, which allows the ferry to be driven in either direction without turning around, the new ferry will be "single ended" and have a wheelhouse facing one direction.
This has been a sticking point with Vineyard Haven, which has advocated for the boat to be double-ended so that it doesn't have to turn around in the harbor, a noisy process that they say disturbs other harbor activity. Town waterway regulations mandate that any new ferries over 150 feet in length must be double-ended, but the Steamship Authority has said they don't have to comply with the rule.
The town harbor management committee sent a letter on June 27 to the selectmen urging them to pursue the issue of the single-ended ferry, though minutes of their May meeting note that the "horse was out of the barn, and that much money had been invested in a design that committee members as well as those present were not in favor of."
Mr. Lamson said he was aware of the letter, but he said cost was a primary consideration, because the ferry would far exceed the $43 million price tag if the double-ended feature was added. He also noted that the vessel has to be able to serve on the Nantucket route, which is more challenging for double-ended vessels.
"That was said up front, that the Authority is not subject to those regulations, but that we will take it under consideration," Mr. Lamson said.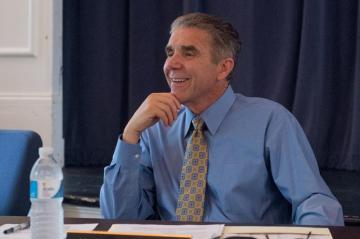 The Woods Hole will travel at a speed of 12 to 13 knots in open ocean, and has the ability to go as fast as 17 knots to make up scheduling delays, said Carl Walker, director of engineering and maintenance.
Mr. Lamson said they expect to award a contract for the ferry's construction at their December meeting.
Tisbury selectman Melinda Loberg, who was present at the meeting, shared her concerns that a boat with greater passenger capacity would lead to more severe traffic problems in Vineyard Haven, with more people dropping people off and picking them up. "We hope to have a partner in the Steamship Authority in addressing the traffic problems," she said.
Mr. Lamson responded that the freight ferry trips are no longer listed on publicized schedules, and would not typically run at full passenger capacity.
Also in the works is a project to build a new parking facility in East Falmouth, which will be ready to accommodate vehicles by next June.
The lot will cost $7 million and will accommodate 1,900 vehicles, replacing the Cataumet, Gifford and Sun lots.
Passenger traffic to and from the Vineyard was up 2.5 per cent in June compared to June 2013. Vehicle traffic was up 1.6 per cent for the same period.