On Friday and Saturday night at Camp Jabberwocky, Dr. Frankenstein hailed from Pennsylvania rather than Transylvania, and his use of electricity didn't sit well with the Amish villagers. Welcome to Frankenstein's Last Dance.
The annual summer play featured a mix of monsters, clever one-liners, songs from the heart and some unique choreography. Campers in wheelchairs danced alongside counselors, and Myles Brawn-Husband as Frankenstein gave a terrific rap performance. The stage was also filled with grave robbers, angels, devils, more than one Igor and even a talking horse. A scene characterizing an open mic night in hell's only coffee shop was followed by a Kenny G wannabe sax solo.
Big Tusk, a band out of west Philadelphia, provided the live music. Keyboardist David Thompson explained that for the weekend, the band would be called the Jason Lopes Experience in honor of a camper who played the bongos all week and joined the band on stage during the performance. This was the band's second summer helping with the production. Mr. Thompson is a friend of Hank Kiely, a Jabberwocky counselor.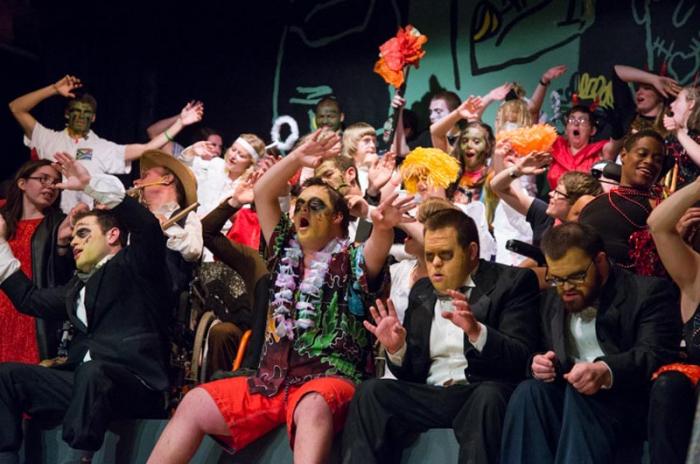 "We went to college together," Mr. Thompson said. "We came last year and we were eager to get back. It's life-affirming to be here."
The campers had a blast on stage and the audience joined them in singing Sweet Frankenstein to the tune of Neil Diamond's Sweet Caroline.
Kaitlin Burkle has volunteered for seven years at the camp and said there's nowhere else she would rather be during the summer than Camp Jabberwocky. "It's my family," she said.
It's not uncommon for volunteers to return summer after summer. This year there were only 12 openings for the volunteer staff of 100. The camp's executive director Liza Gallagher said the campers look forward to the summer all year long.
"They have classes in the morning," she said. "They may go to a writing class, pottery, art, music. They go horseback riding, drumming on the beach, they sail on the Black Dog ship, they kayak and we have a prom every session."
All this magic doesn't come without hard work, though. The staff is almost entirely volunteer and the camp depends on donations for three-quarters of its budget, Ms. Gallagher said.
An upcoming 5K run on August 23 is a major fundraiser, but camp performances are free to the community.
"You can make a donation at the performance, but it's really so that the community can come visit us and see what we're about," Ms. Gallagher said.
Once they visit, sometimes they get involved, too, she said.
"We're open to volunteers from the community," she said. "If you'd like to run an art class, read a book or just hang out with the campers, we'd love to have you."
The next musical production, unnamed for now, is set for August 9. For more pictures of Frankenstein's Last Dance.
Visit campjabberwocky.org to find out more.