New York Times best-selling author Andre Dubus 3rd has a theory about why we are on the planet Earth. "It comes from just living," he said. "Do you want to hear?
"I think we're here to figure out first of all who the hell we are and be that person, which may not mean fame and fortune but it means living your authentic existence," Mr. Dubus said in an interview with the Gazette. "And two, I think we're here to learn how to love and be loved. And that's it."
In his latest book, Dirty Love, Mr. Dubus explores this theory of existence through a series of four novellas. Although he wrote the stories independently of each other over the course of 15 years, Mr. Dubus later realized the stories are linked. When his editor pointed out that the stories take place in the same two towns, Hampton Beach, N.H., and his hometown of Haverhill, Mr. Dubus said, "It was like somebody analyzing your dream, pointing out a connection you hadn't seen."
The final version of the book, which has been named a Notable Book by the New York Times, features characters that sometimes move from one story into another.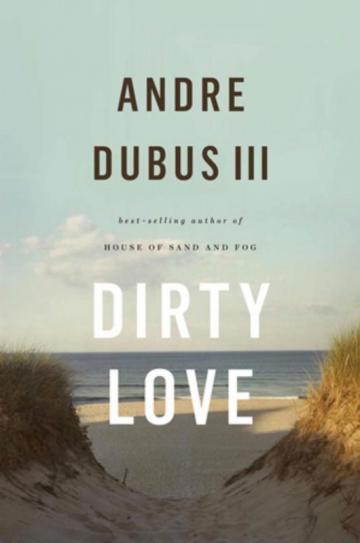 Characters range from a teenage girl dealing with the fallout of a publicized nude photo to a bartender who cheats on his pregnant wife. They're all "trying to love and be loved and failing at it and trying again," said Mr. Dubus. It's a theme that has surfaced in much of Mr. Dubus's work over the last few years, he noted. Mr. Dubus said he never sits down to write with any sort of initial theme in mind. In fact, he specifically avoids it. In writing classes, he advises students not to outline stories. He prefers writing "from the inside out." Characters take him into their stories and meaning emerges after the words are on the page. "Fiction writing is really a descendent of the dream world," he said. "It's not about thinking, it's about dreaming. I find that when I allow it to just really go where it wants without my own agenda coming in, something special can happen."
Two of the book's stories, Marla and The Bartender, actually emerged from a failed attempt of Mr. Dubus's to write with an agenda. For years he wanted to write about a con artist, but in writing the con man's story he felt more of a connection to other characters he discovered along the way.
"There's a difference between making something up and imagining it," Mr. Dubus said. "I felt like I was making up the con man stuff, but that I was imagining the bartender and then Marla. It just felt rooted for whatever mysterious reasons in some imaginary truth in a deeper way, and so I just went with them. Even though I didn't even really feel like writing their stories, they're the ones that felt more honest.
"Just because you want to write about something doesn't mean it wants to be written about by you," he added.
When reflecting on what he hopes Dirty Love accomplishes, Mr. Dubus immediately thought back to a night out with his longtime friend, author Tim O'Brien. When the two were out for drinks in Boston years ago, Mr. Dubus brought along a copy of Mr. O'Brien's book In the Lake of the Woods for him to sign. As Mr. O'Brien hopped into a cab, he quickly signed the book.
"All he wrote was 'Andre, I hope this reaches inside. Tim.'" Mr. Dubus said. "And I thought, goddamn, shit, that's all I'm ever trying to do. I just wanted to reach inside."
As for what Dirty Love means to Mr. Dubus himself, he is still figuring it out. It takes a long time for him to realize what something he's written has done to him as a person. But, he said, "the feeling is very much the feeling you have after you've travelled, after you've been to a country or city that you've never been to before. It's that feeling of having enlarged your view of the world."
Mr. Dubus will be travelling to Martha's Vineyard to be a part of the Martha's Vineyard Author Lecture Series. His talk will begin at 7:30 p.m. on August 3 at the Chilmark Community Center. Tickets and copies of Dirty Love can be purchased at mvbookfestival.com.