Guests attending the 17th annual Water Tasting by the Sea to benefit the Vineyard House received an extra water sampling on Thursday evening. In addition to the Poland Springs, San Pellegrino, Saratoga and Acqua Panna waters on tap for guests to enjoy, Mother Nature offered her own variety from the skies, in the form of a sudden spectacular rain shower. The Allen Farm, where the event was held, also offered ample water views of both Chilmark Pond and the south shore.
Despite the stormy weather, spirits were high at the event, which drew a crowd of over 300 supporters. Vineyard House was founded in 1997, and is Martha's Vineyard's only sober living facility for people recovering from substance abuse. This year is a particularly special year for the organization, as it is constructing five new LEED certified buildings in Vineyard Haven to replace their three older homes. The foundations for the first two were set in late July.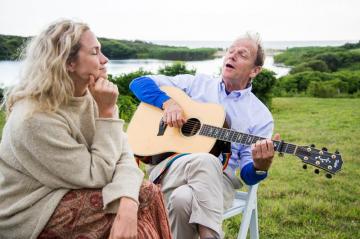 Testimonials of Vineyard House's importance on the Island were printed on signs leading to the main tent.
"I would not have been able to do anything without moving into a program like Vineyard House," read one. "After my stay in Vineyard House, I feel competent, honest and see myself as a decent person," read another.
The event featured a large silent auction — what one attendee called the "best silent auction of the season" — that offered a range of items from a floating grill to an Allen Whiting painting of the Allen Farm, made specially for the event. Many Island businesses also donated services to be auctioned off. Jay's Septic Services was among the most popular items.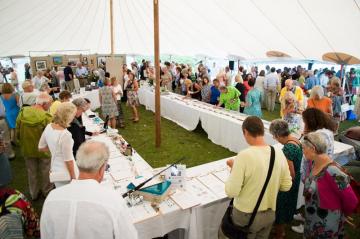 Guests had high praise for the water tasting and the Vineyard House's mission. Ann Floyd, who has a relative living at Vineyard House, stressed the importance of Islanders being able to be close to their families during their recovery.
"Alcohol and drug addiction affect a real diverse population and it is essential for us to have [Vineyard House] here on the Island so people can stay with their families," Ms. Floyd said. "Then they don't have to be shipped off somewhere where they have no social support from family members."
Tea Lane Caterers catered the event and Livingston Taylor performed live music and his niece Sally Taylor made a guest appearance.
Overall, the event raised over $50,000.