While President Obama maintained a low profile on a rainy Wednesday afternoon, his former Secretary of State shook hundreds of hands at the Bunch of Grapes Bookstore in Vineyard Haven.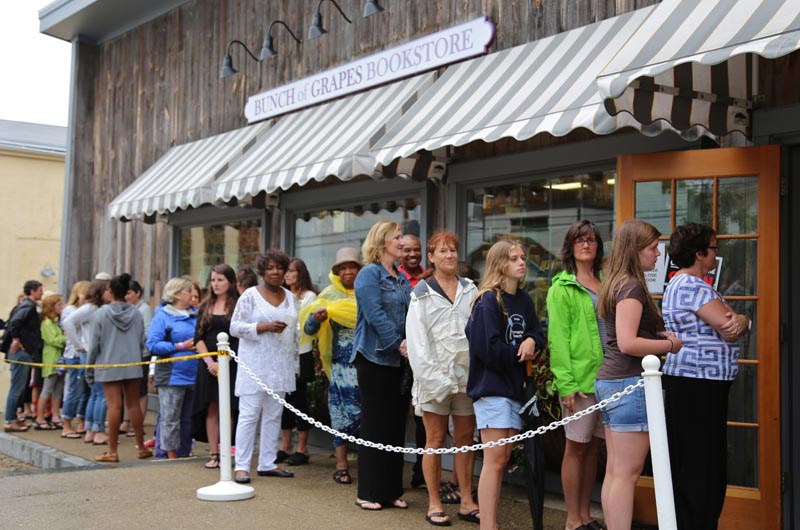 A line of people eager to greet Hillary Clinton stretched all the way to the Steamship Authority wharf just before 4 p.m., as security personnel assembled around the front of the Main street store, and crowds gathered hoping for a glimpse of Mrs. Clinton, a longtime Island visitor.
Once they reached the back of the building, fans were ushered through a security check and finally through the front door.
Mrs. Clinton signed copies of her book, Hard Choices, in quick succession in the back of the store, while making small talk with patrons and indulging in many photographs and selfies.
The bookstore had sold nearly 1,000 copies of Mrs. Clinton's book, which is an account of her experiences as Secretary of State, in preparation for the signing.
Bennie Hickey of Vineyard Haven bought a book for herself and one for her cousin Bessie, who lives in South Carolina.
After shaking Mrs. Clinton's hand, she took a picture of her with a disposable camera.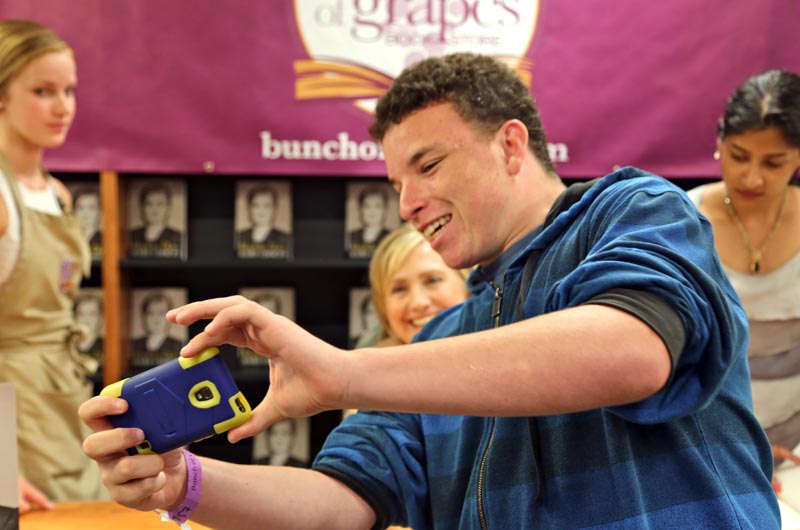 "I wanted to meet Hillary and see if she was as nice as I have seen her on TV," she said as she prepared to leave the store.
She said this was the first step in a process to make up her mind about Mrs. Clinton as a potential presidential candidate, but her cousin was a definite fan.
"I like to very meticulously collect information," Ms. Hickey said. "This was step one on my information tour, and so far, it's been wonderful."
Another definite fan is Patti McGrath of Harwich, whose face lit up in a wide smile after shaking Mrs. Clinton's hand.
"I would like to see Hillary and [Elizabeth] Warren, two women, running the country," she said. "I think we've done the two men bit long enough."
Up close, she was struck by Ms. Clinton's beauty, she said. "I said to her, you look terrific, and she said, thank you so much," Ms. McGrath said.
When Cheryl Vieira made it to the table, she challenged Mrs. Clinton to take on the amyotrophic lateral sclerosis challenge.
The publicity stunt has gained traction on social media and seeks to raise awareness about the degenerative muscular disease. Participants must film themselves pouring cold water on their heads and post the video to Facebook or Twitter.
The idea to ask Mrs. Clinton to do it occurred to her in a dream, Ms. Vieira said, shaking a bit with excitement and waving a business card for the former First Lady's aide.
"It will be fun to watch Hillary dump a bucket of ice water on her head," she said. "Hopefully she does it."
Many fans offered their support for a Rodham Clinton presidency, but Mrs. Clinton was noncommittal.
"We'll see about that, but I'm just glad you came to see me," she told one woman.
On Wednesday evening, Mrs. Clinton was expected to attend a private birthday celebration for Ann Jordan, wife of Vernon Jordan. President Obama was expected to attend as well.