For 12 years, Humphreys Bakery in Edgartown has indulged Islanders and visitors with sandwiches loaded with meats, cheeses and vegetables on freshly baked bread.
But come October, those hankering for a turkey gobbler or a tree hugger will be directed instead to the Edgartown Triangle, where Humphreys will join sister shop Dippin' Donuts.
The petite shop on Winter street has served a loyal lunchtime crowd throughout the summer months. But the rent is too high to justify staying, Mike Diaz, who owns the shop with his wife, Donna Diaz, said in a telephone call with the Gazette on Monday.
"We are going to scale back and we found that we are able to do so by setting up operations at Dippin' Donuts," Mr. Diaz said.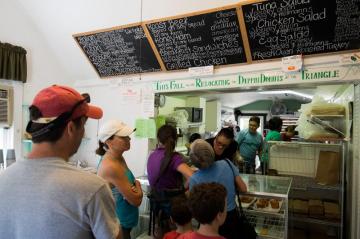 Over the years, as rent has increased, food prices have also gone up, he said. While business was brisk, with lines regularly spilling out of the 380-square-foot shop and onto the front porch, the rush was limited to the lunch hour.
At the Triangle location, Mr. Diaz will combine his specialties: doughnuts for breakfast and sandwiches for lunch, both available year round, he said.
Reflecting back on Humphreys' Edgartown legacy, Mr. Diaz said he was sorry to see the downtown location go. While the West Tisbury Humphreys was already set up when he and his wife took it over in 1996, Mr. Diaz, a carpenter, remodeled the Edgartown shop himself.
"It was sad for me because it was the first store I personally built," he said. "I took a lot of pride in that being the first one I had ever done."
It was also the first of the group of stores to be named Humphreys; the West Tisbury shop was officially named Vineyard Foodshop, but carried the nickname Humphreys, for the longtime former owners.
Still, he estimates he can sell less than a quarter of the sandwiches at the Triangle location and still make out the same as he did at the pricier downtown location.
"The overhead on that building was eating up a large part of that profit," he explained.
And with a five-year lease scheduled to expire this year, he said it seemed like appropriate timing to try something new. He said he and the building's owner, Dorothea (Pat) Morgan, were parting on amicable terms.
The new location also has better parking options and is close to State Beach, he said. Off-season hours for the Triangle location are still undetermined.
Bread and doughnuts will continue to be baked at the Vineyard Haven location, where Humphreys has a full-service kitchen and sells donuts and sandwiches. Mr. Diaz also sells his products to retailers across the Island, and at the East Chop Beach Club in Oak Bluffs.
Mr. Diaz said he has no current plans to raise the prices of his sandwiches, but the fluctuation in food costs makes it difficult to predict.
Sandwich menu boards are already posted at the Triangle, where the combined business will take off this fall.
"Hopefully, by this time next time year, I'll be telling you about the happy ending," Mr. Diaz said.