Buckrammer's Tales, by John E. Conway. The continuing catboat summer adventures. 208 pages. Illustrated and photographs. AuthorHouse.com, $19.95.
For many families, a sailboat trip on the water is one of the pleasures of summer. For most, family sailing is a short afternoon trip. But for another group of sailors it can span days and include overnight anchoring. It is like a car excursion, but on the water with multiple stops, different places to stay. And just like on a car ride, there are games to play, stories to tell and songs to sing to keep away waterway boredom.
John E. Conway's book Buckrammer's Tales provides a window into this world for anyone who wonders what sailing would be like for a captain who takes his family along. His first book, Catboat Summers, was published in 2003 and this new book follows as a sequel.
Mr. Conway sails a 24-foot 1908 Charles Crosby wooden catboat called Buckrammer out of Westport Point. Catboats are perfect for sailing these waters. With a low draft and an adjustable centerboard, the boat can get to a lot of special places in these waters that a keel bottom sailboat would have to avoid.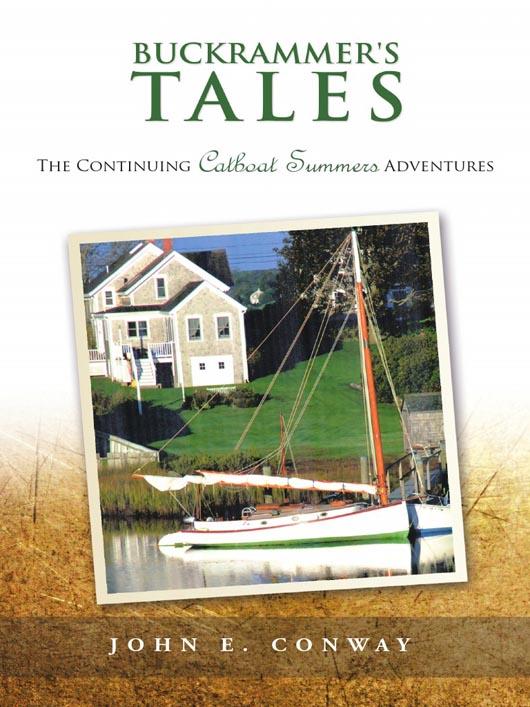 Buckrammer's Tales is a collection of memories, a compilation of sailing adventures from 2003 to 2011, a time when his kids were growing up. At least two of the trips mentioned include Vineyard waters.
One trip involves a failed attempt to sail to Edgartown. The trip reverses direction in Vineyard Sound because of mounting engine problems, which forced him to return home. The second journey involves a family mission to Menemsha Pond to see the remnants of the fishing boat Orca, the star vessel in the 1975 movie Jaws.
Within the book there are two ghost stories, one that involves the Sakonnet Light, and a second that involves a small island near the Westport River.
The book is full of small mishaps: groundings, near groundings, engine trouble and a host of other surprises. Mr. Conway has a great way of unfolding the elements of a predicament, which represents much of the storytelling in the book.
The author's big contribution is his knack for writing about these journeys and including the voices of his three children: Abigail, Ned and Caroline.
He writes of the beginning: "Judy Island holds a special place in the Conway hearts as the destination of our family's first major boating adventure together. In the summer of 1990 we had just completed construction of our little dinghy, Splinter, and sought places to go and things to do on the water."
Caroline was 4, Abby 10 and Ned 8 years old. "In studying the charts of the Westport River we identified a sail to Judy Island as the ideal day trip (of course we renamed the place Pirate Island for the occasion)."
Perhaps the greatest treasure within the pages of this book is a chapter at the end devoted to "Tips on Sailing with Kids ." There are 12 pages of advice on how to make sailing a wonderful adventure for youngsters and their parents.
Mr. Conway paid tribute to his own father for his own love of boating. "Keep the trips short and the fun long. . . . My dad was a master at gauging the boredom time-factor of boating adventures. Our early sailing trips (in rented or borrowed Beetle Cats or flat-bottomed skiffs) lasted just long enough for my brothers and I to constantly yearn for more." He said a boating adventure normally was from three to four hours long.
Today, Mr. Conway's children are all grown, but the captain enjoys the pleasure of grandchildren — no doubt on the water once again.