As executive director of the Martha's Vineyard Film Society, Richard Paradise's job is to curate every single feature film the Martha's Vineyard Film Center plays. Mr. Paradise is a busy man.
The film society has over 1,900 members, a number that has tripled over the past two years, and in 2013 the society screened over 200 feature films. Plus, there is the annual Martha's Vineyard International Film Festival to curate, now gearing up for its ninth run, from Tuesday, Sept. 2, through Sunday, Sept. 7.
As always, the festival is a chance to travel the world. This year the films come from Singapore, Japan, Israel, Iceland, Jordan, France, Romania, the UK, Poland, Italy, and the United States. There is also a night of short films and an animation series. There will be comedies, dramas, thrillers and quite a few films about life on the road, from the heart of Texas to the edge of Iceland.
"It's all about discovery and about films from around the world," Mr. Paradise said of the festival. "Only two or three films were actually shot in the United States. I'm trying to bring films that are not going to be necessarily recognizable to the festival audience."
Case in point, one film offers a view of Iceland through a Humvee, and another of Italy through a Mini Cooper. A third road trip film travels from Texas to Boston in the backseat of five Volkswagen camper vans.
"Iceland is a real surreal place to go," Mr. Paradise said, explaining his reasoning for selecting the comedy Land Ho!, a road movie with glaciers, geysers and two former brothers in law trying to reclaim their youth. The movie was directed and written by Aaron Katz and Martha Stephens, and it screens on Wednesday, Sept. 3, at 7:30 p.m. Afterward, there is an Icelandic-themed party at the Port Hunter in Edgartown with live music by Mike Benjamin, who will be adding some Icelandic songs to his repertoire, Mr. Paradise said.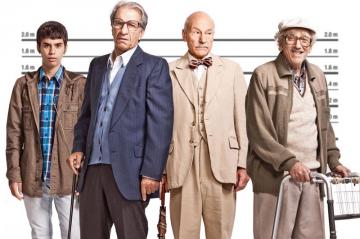 If Italy is also on your desired destination list, The Trip to Italy will be shown at 8 p.m. on Thursday, Sept. 4, after the annual festival gala, which begins at 5:30 p.m. at Saltwater restaurant. Comedians Bob Brydon and Steve Coogan star in the movie, a sequel to The Trip, and it was written and directed by Michael Winterbottom. The two men eat their way from Liguria to Capri, while retracing the steps of the Romantic poets.
Rounding out the road trip movies is the U.S. premiere of Austin to Boston, two weeks of driving 3,000 miles with Ben Howard, The Staves, Nathaniel Rateliff and Bear's Den. The movie was directed by James Marcus Haney.
"I'm excited about this one," said Mr. Paradise. "It's like if Willy Mason was going on his bus around the country playing gigs, sort of a modern day music tour."
Boston to Austin will screen on Saturday, Sept. 6, at 9:15 p.m.
This year the festival is also reaching out to families and children with the addition of a family-friendly film. The French movie Belle and Sebastian will play on Saturday, Sept. 6, at 10 a.m.
"Who doesn't love a story about a big old dog and a boy? It should go over well here on the Vineyard, because there are a lot of dog lovers here," Mr. Paradise said.
Overall, Mr. Paradise said he is excited to once again be introducing the Vineyard audiences to new films from around the world.
"The thing is, the festival has always been about exploring other cultures, other places through film," he said. "When you watch a film, it takes you to a different country."
Or quite possibly, on a road trip.
A complete list of movies and events can be found on the film society's website, mvfilmsociety.com.