Less than four months after groundbreaking, a new campus has taken shape at Vineyard House.
An open house was held last Thursday to allow people inside the three new modular homes, which are in various stages of completion. Builder Woody Mitchell of Squash Meadow Construction, who is working with Westchester Modular Homes to create the units, said the goal is to have the buildings complete and residents moved back in by Christmas.
Established in 1997, Vineyard House provides a safe space for recovery from alcoholism and addiction. Residents must go through an interview process before entering the program. They will then live on campus, attending 12-step meetings and working through a recovery path in conjunction with Martha's Vineyard Community Services.
The new campus is the result of a $3 million capital campaign, which began in 2011. There are two houses for men and one for women, in addition to an administrative building. The administration building's conference room is named for the late Pat Gregory, who was treasurer of the organization.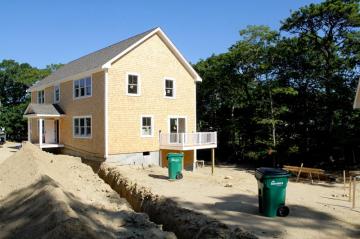 There will be a total of 24 beds available when the project is complete. The homes, as well as the construction site itself, are all LEED-certified and energy efficient.
"Every time I come up the road I have to remind myself it's not a dream," said Vineyard House board president Mark Jenkins during Thursday's event. "It's been a long time coming. A lot of people have done a lot."
Vineyard House receives considerable support from both the year-round and seasonal Vineyard community. This year's annual water tasting fundraiser brought in more than $50,000.
"To have a healthy community affects both year-round and seasonal residents," Mr. Jenkins said. "This disease touches everyone's lives."
The open house was an opportunity to showcase the progress being made on the new homes, which were designed with input from Vineyard House staff and board members.
"A lot of people wanted to check in," Mr. Jenkins said. "There are a lot who are not going to be here, so it just sort of made sense."
A key concern for the designers was increasing personal space for residents to improve overall quality of experience. The shared rooms are semi-private, and extra space was factored into bathroom design.
"It totally exceeds my expectations," women's house manager Jill Humiskey said.
"Our hope is that a better experience results in better outcomes," Mr. Jenkins said.
The new rooms are also flooded with natural light, courtesy of large, tall windows. That decision was a practical one as well as a symbolic one.
"It's a dark problem," said managing director Dawn Bellante Holland. "But recovery is a solution. It's joyous, it's a relief."