Last year, when Martha's Vineyard Striped Bass and Bluefish Derby chairman John Custer was contacted by a local artist who wanted to donate prints for the tournament awards ceremony he didn't think much of it.
"I didn't have any expectations. I had never met him before," said Mr. Custer.
The artist was Abe Pieciak, a local fisherman and chef whose watercolor painting of a striped bass, the outline of which was filled in with colorful lures, quickly created a buzz.
Four framed prints of Mr. Pieciak's striped bass "lure fish" were given out at last year's awards ceremony.
"We didn't even have time to promote it, but he got so much word of mouth publicity because it was such a unique piece of art," said Mr. Custer.
The striped bass was the first fish that Mr. Pieciak painted. "It's my favorite one," he said. "It's pretty bad, but amazing. It's a striped bass, but it doesn't really look like a striped bass."
Mr. Pieciak grew up in Maine and has been a fisherman all his life. Since moving to the Vineyard five years ago, he has worked at Lambert's Cove Inn, the Ocean Club, Kitchen Porch Catering and the Harbor View Hotel. He spent this past winter living in New York city with his girlfriend Caitlin Thurbuena, where he continued to cook and work on his lure fish series, painting false albacore, bluefish, bonito, large mouthed bass and trout.
"I just kind of did it," he said. "I'm inspired by all the guys who make their own wooden plugs on the lathes and paint them all different colors, and I love fishing and art so I just kind of put the two together."
But what started out as a hobby quickly became much more. Last January, Mr. Pieciak created the Lure Fish Facebook page and offered prints for sale. After a few sold, he decided to make a new striped bass and put the prints up for sale.
"Thirty prints sold in a day . . . it was amazing," he said. "Selling one piece of art in my eyes, even if it's 50 cents, is amazing. Then I was like, oh, my God, now I have to ship all of these things. How am I going to do that?"
So he started a website which served as a showcase for his work, but also helped to organize sales.
"And then I printed it on a shirt," he said. "And a sticker and a sweatshirt."
From there, the momentum continued.
His stepfather and his mother, also an artist, offered to help with the clothing part of the business from their home in Maine, which includes T-shirts, sweatshirts and, in the future, aprons and canvas beach bags hand sewn by his mother.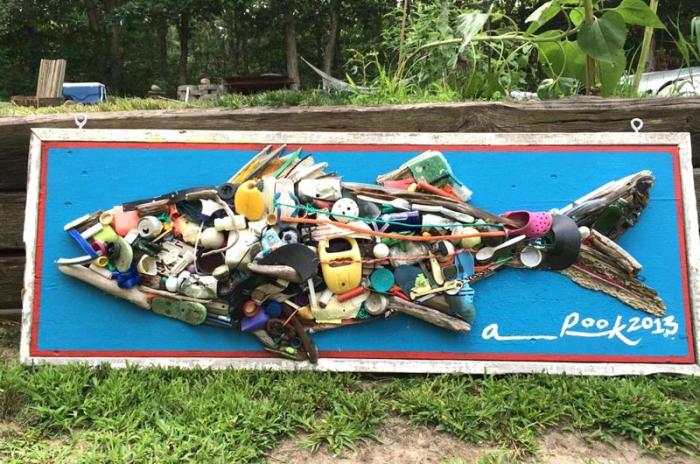 "There will eventually be two different styles of T-shirts, one will be rugged T-shirts and another will be soft cotton," said Mr. Pieciak. "I want fisherman to be able to buy the shirts and just trash them."
This spring he returned to the Island and reached out to Mr. Custer, offering to donate more work to the derby. This time, Mr. Pieciak planned to create and donate 35 prints to the competition — one to be given away each day of the derby, plus two framed prints for the awards ceremony.
"That is such a noble, generous kind of thing," said Mr. Custer. "That whole idea of giving back is the whole idea of what the derby was about in 1946."
The prints feature the four derby fish: striped bass, bluefish, bonito and false albacore.
"It took a very, very long time," said Mr. Pieciak. "I love the way it came out. I did it with new paints that my mother got me." As for the prints, Mr. Custer hasn't decided how the giveaways will work just yet. "What he is doing is aligned with the whole idea of the derby, giving back to the community," Mr. Custer said. "His whole approach to it was refreshing and sincere, so I'm contemplating how exactly to award it in the spirit in which it was given. We'll likely award them to individuals who represents those traits, as opposed to someone who caught a fish."
As he settles into his winter rental in West Tisbury, Mr. Pieciak has big plans for the off-season. He hopes to paint 50 different kinds of fish, including some of the southern fish, which he has had requests for. He also plans to have an art show this spring featuring original watercolors.
"My goal is to have a gallery and store somewhere," he said. "But it's going to take a little time."
As for his more immediate plans, Mr. Pieciak said he will be fishing every day of the derby.
So what does he love more, fishing or painting?
"That's tough," he said. "I like painting and then going fishing after, and then coming home and maybe painting a little more."