A period of transition begins for the Martha's Vineyard Commission with the announcement that executive director Mark London will retire next year.
Mr. London quietly announced his news at the end of a commission meeting last Thursday night, saying he planned to retire by the end of next summer. The commission will soon begin a search for his replacement.
The sixth executive director in the commission's 40-year history, Mr. London was hired to take over the top post in 2002. He came to the Vineyard from Montreal where he had worked as a city planner for some 31 years. He had previously been a summer visitor to the Island.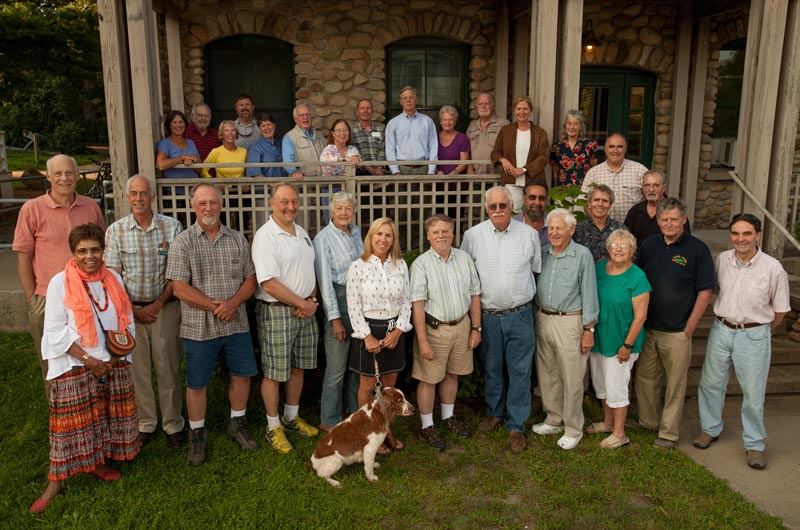 "I made a list of benefits and detriments for this job," he told members of the commission in his final interview for the job in August of 2002. "A detriment is that the Vineyard would no longer be a benefit for me," he said with a laugh.
He was hired with great enthusiasm during a time of internal turmoil at the commission following the departure of executive director Charles W. Clifford, and also following a period of high-profile development reviews including the controversial Southern Woodlands golf course development that failed to win approval and left deep wounds between the town of Oak Bluffs and the commission.
"This is the people's commission doing the people's business . . . I hope we can get over reasonably quickly the current divisiveness," Mr. London told the commission just before he was hired.
During his tenure as executive director Mr. London has presided over a period when planning work largely outweighed high-profile development reviews at the MVC. He led the Island Plan, a 50-year comprehensive plan that was two years in the making and completed in December 2009.
Mr. London said this week that he thought the time was right to retire. He said that he hasn't taken more than three weeks off at a time in 50 years. And for the past two years he has had to deal with health issues. He's fully recovered now and said the experience made him think differently about some things.
"It made me realize time is not unlimited and I should take some time for myself and my family," he said. Mr. London lives in Chilmark with his wife, Linda Thompson.
He said he feels this is also a good point in time to make a change at the commission.
"We're not in the middle of anything, although we've obviously got work that's being done," Mr. London said. He mentioned a number of regional planning initiatives underway, including one on climate change, another on rural roads and a zoning study that is nearly complete.
"I think we're in a pretty good position," he said.
"There is more we could do to implement the Island Plan or the ideas that are in the Island Plan," he added. "And to a larger extent it's up to the towns and the communities to pick up sections and work with them. I don't know what one could do to make sure that people don't forget about it and look at it every once in awhile. But there is so much to be done on the Island and every project needs a champion — those are the ones that will happen."
And as for his plans in retirement?
"I have a list. But I don't think I'm even going to take the list out until I've had a few months off, which I haven't had in 50 years."
Commission chairman Fred Hancock told the Gazette this week that he will be sorry to see Mr. London go.
"I think he's been very good for the commission and the Island," Mr. Hancock said. "I'm always impressed by his knowledge of different planning issues and the consequences of certain actions, and that's an invaluable tool to have.
"I think we'd be very lucky to find a person as qualified as Mark is to lead the commission," he added.
The search for a new executive director takes place at a time when commissioners are also changing. West Tisbury commissioner and clerk-treasurer Brian Smith stepped down in September to spend more time with his family, and longtime Tisbury commissioner Ned Orleans has also left the commission. For the November election, there are some new faces running for nine at-large elected seats.
The search for a new executive director will begin with the formation of a search committee. While commission bylaws are clear that commission members lead the search for a new executive director, Mr. Hancock said he is "certainly open to the idea that we could possibly hold a meeting and ask the community to give us feedback about what they think should happen. . . what things they would be looking for in an executive director."
Longtime commissioner Linda Sibley said that finding a qualified person with Island ties or who is willing to move here can be daunting.
"I'm very interested in the challenge that we're going to have in finding someone new," she said. She was pleased that Mr. London gave the commission ample warning in order to conduct a proper search.
"We have time to really work on this," she said.
Aquinnah commissioner Jim Vercruysse was commission chairman when Mr. London was hired in 2002. After a few years off, Mr. Vercruysse recently rejoined the commission.
"I think he's done a great job and he's taken the commission a lot of places that it never would have gone without him," Mr. Vercruysse said. "Outside of the commission, he's really been a presence in the community," he added.
The job search "has to be done thoroughly and systematically and it's good that he's giving us enough notice to really do a thorough job," Mr. Vercruysse said. During the last search for an executive director, he recalled, the commission was under pressure with a review of some controversial issues.
"Now it's a little more relaxed," he said. "It'll be easier for all concerned...we can take our time and make sure we're hiring the right person."
Julia Wells and Alex Elvin contributed reporting.