A 50th wedding anniversary is referred to as the golden anniversary, and if thinking of gifts something gold might do. But for Tony and Abigail Higgins, who celebrate their 50th anniversary on Oct. 24, they would like to give rather than receive. They want to help restore the Mayhew Chapel on Christiantown Road, the place where they were married in 1964.
Abigail Higgins, born Abigail Scott, grew up just up the road from the chapel on Red Farm. Tony was a washashore from Delaware, but he washed up on the Vineyard in style, as one of the first crew members of the Shenandoah. He was there in the beginning with Bob Douglas, heading up to South Bristol for the launch of the now iconic boat.
In the Nov. 6, 1964 edition of the Vineyard Gazette, Colbert Smith wrote about their wedding in his regular column, Things Insular. He noted at the beginning of his piece that a wedding was not regular material for his column, as he preferred to write about the less ordinary aspects of the Island. And yet he was drawn to this particular wedding for its leanings toward "the simplicities of an earlier, more bucolic Vineyard."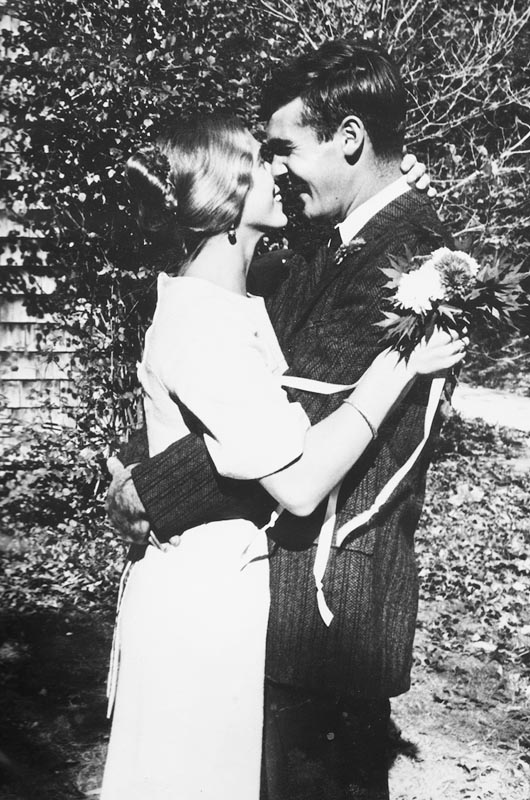 Evidently, even then the first hints of the wedding business were taking root on the Island.
"The wedding guests were asked to come to the ancient Red Farm at Lambert's Cove, the Scott family's home, and from there they walked — walked, mind you — to the little Indian chapel at Christiantown," Mr. Smith wrote in his column. "They went by way of an old woods road that wound up over the hill behind the Red Farm, through a brilliantly colored hardwood forest, and down to the little chapel, where Rev. Henry L. Bird and a few other non-walkers waited."
The couple had cleaned up the chapel for the event, "sweeping the bug dirt out of it," Tony said the other day seated outside their home, still just a stone's throw from the chapel. Three brown Chinese Geese, also referred to as watch geese due to the loud honking they direct at any stranger, honked loudly around the perimeter of the property. Abigail sat next to Tony, neither of them looking like a couple who had logged 50 years together. Tony is 76 and Abigail is 69, but it isn't hard to see the young couple they once were who concluded their ceremony, "with a particularly resounding kiss," as Mr. Smith put it.
Both Tony and Abigail have good genes. Abigail's father is 102 and still lives up the road, and her mother just died at 97.
"My mother made it to 92," Tony said. "My father was a journalist and did two packs a day for many years and got throat cancer but still made it to his 80s."
It isn't hard to imagine Tony and Abigail celebrating their 75th anniversary someday.
They admit, though, that the marital DNA of their families wasn't nearly as strong. They are both children of divorces and they say that experience played a large factor in their own marriage's longevity.
"We were children of divorce and having your family life shattered," Abigail said.
"Kids of divorce kind of really sucks," added Tony. "So even though there were rocky passages it seemed better to hang in there."
Exercise helped too, Tony said.
"I'm a fitwit, have been all my life. I have an obsessive compulsive disorder of fitness. I have replaced knees as a result, and had a shoulder rebuilt. Fortunately my organs remain functional but the limbs have taken a toll. It works off steam and keeps me sane."
Abigail leans toward a more holistic approach to marriage.
"I had an uncle who I was probably most close to and he was getting old and I asked him what he thought was the most important thing. And he said a feeling of harmoniousness in life. He was sort of an acerbic person, but a sweetie underneath so I think I took that from him, that harmoniousness. However you can, in all aspects of life, you have to try to identify it. And marriage can be one of the most problematical areas. So how do you do that? Well, it's sort of like having a wedding that was as simple and as close to home as possible." The wedding came together fairly quickly as the two were "shacking up" as Tony put it, and their families were starting to pressure them to do something. This was, after all, the early 1960s, and the counter culture was not yet in full swing.
"So we kept fobbing them off and saying we're going to get married in the fall," Abigail said. "And then it was the fall."
"We thought it would be cool to use the chapel," Tony said
"We wanted everything to be, here we are, this is where we are," added Abigail.
Mr. Smith wrote: "The guests filled the little box pews, made for a religious era when posterior discomfort must have been held to enhance spiritual concentration."
He also mentioned the food: "Abigail baked the bread for the wedding and friends and relatives prepared all the other food, with the Shenandoah's cook contributing a roast beef."
"It was a big house party," said Tony
"A small house party," Abigail corrected him.
"People slept on the floor of the old farm house," he said.
"Everything was as straight forward as possible," she said, adding "It's about hunches, trying to find the most harmonious aspect, unencumbered by rubbish as much as possible."
Which is how they plan to celebrate their anniversary. There will be a small party with family and friends. Only one guest will be present who attended the original wedding — Abigail's sister, Kate Scott.
It's going to be simple, like the original one," Abigail said.
"But we'll probably crack a bottle of champagne," added Tony.
They may even walk down to the chapel again to commemorate the occasion. Today the chapel sits in disrepair though, not used, at least in their memory, since about 2009. Which is why they would like to figure out a way to contribute to the restoring of the building.
"As a way to celebrate in a more meaningful, community-spirited way our anniversary," Abigail said. "This spot and this little building continues to have a role in peoples lives here," she added.
"I go by it every day," said Tony. "It is unique."