A new bill requiring the labeling of genetically modified foods has gained strong support from the Vineyard community. On Sunday, more than 100 people attended the annual Farmer's Brunch in Chilmark, which focused on the controversies surrounding genetically modified organisms in the United States.
Sponsored by Slow Food Martha's Vineyard, part of the Slow Food USA network, the brunch was prepared using all GMO-free ingredients, many of which were organic and locally sourced. The four speakers drew from their personal experiences in farming or advocacy to talk about the anti-GMO movement.
Martin Dagoberto, co-founder of the Massachusetts Right to Know campaign, with whom Slow Food MV works as a network partner, spoke about the need for greater transparency in the production and labeling of foods containing GMOs.
"Americans are already eating their weight and more in genetically engineered foods," he said.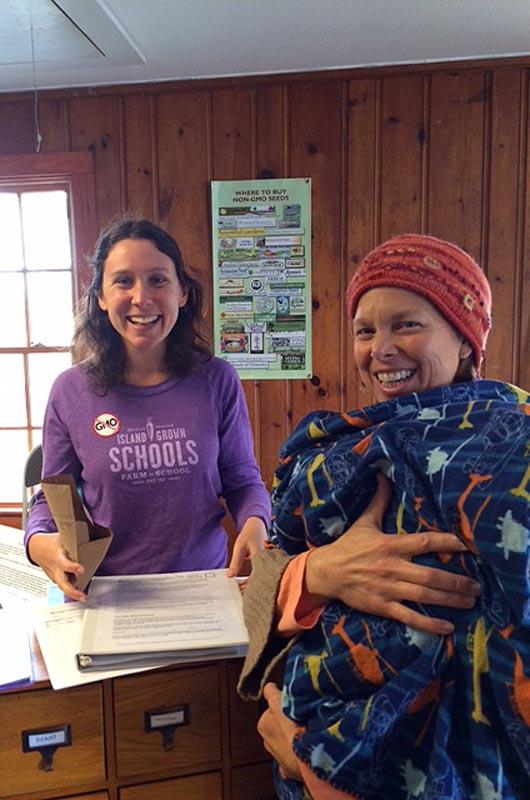 About 90 per cent of the corn, sugar beets and soybeans grown in the US are genetically modified, with about 80 per cent of all grocery store products containing genetically modified ingredients.
"There is a growing body of evidence linking the consumption of genetically engineered foods to such things as faulty insulin regulation, immune problems, infertility and multiple types of cancer," Mr. Dagoberto said.
Concerns also focused on the environmental effects. Most genetically engineered crops are made to resist certain herbicides or pesticides, or to produce their own. Herbicide-resistant organisms, or "superweeds," that have adapted to the crops, are now found in more than half of the conventional farmland in the US.
Carol Koury, who operates a seed company in Asheville, N.C., spoke about the problems that arise when seeds are patented. Eight companies, including Monsanto, Dow Chemical Company and DuPont, now control three quarters of all the seeds sold in the U.S., she said.
"Farmers can't save those seeds," Ms. Koury said. "In fact, they get sued for unintentionally having their crops contaminated by GMOs."
Mr. Dagoberto said companies that use genetic engineering have focused on commodity crops like corn and soybeans as a way of gaining a foothold in agriculture. Ms. Koury pointed out that monocultures, such as the vast cornfields of the midwest, rely heavily on fertilizers and other chemicals. "That soil is going to collapse," she said. "There is no doubt about it."
Nine genetically engineered crops are commercially grown in the US, but many more are in the pipeline. Sweet corn is among the varieties that are expected to become widely available in the near future, Ms. Koury said. But she added that without labeling, it would be difficult for consumers to know what they are buying.
According to several polls, most people in the U.S. support labeling, regardless of their feelings about whether GMOs are safe. Connecticut and Maine have passed GMO labeling bills, but they will go into effect only if neighboring states pass similar bills.
Last year, Vermont became the first state in the country to pass GMO labeling legislation with no strings attached. The state was sued a month later by the Grocery Manufacturer's Association and other trade organizations, which called the bill unconstitutional. Similar labeling laws have been passed in 64 countries worldwide.
Slow Food MV has been running a GMO labeling initiative since last year, in support of Massachusetts Right to Know's legislative efforts. Last summer the group had a tent at the farmers markets in West Tisbury. A year ago, Slow Food MV and a group of Islanders presented a petition with more than 3,000 signatures supporting labeling legislation to Cape and Islands Rep. Tim Madden.
"Grassroots efforts like these really do make a difference," said Kaylea Moore, a liaison for Rep. Madden who spoke at the Farmer's Brunch and conveyed Mr. Madden's support for the local efforts.
Other anti-GMO efforts by Slow Food MV include the distribution of labels and small signs to local farms. On Sunday, Island caterer and locavore Jan Buhrman, who helped organize the brunch and also spoke about organic poultry farming, presented signs to Allen Farm, Grey Barn Farm, Mermaid Farm and Whippoorwill Farm.
Mr. Dagoberto said Martha's Vineyard was a "standout" community among the 12 or so groups he works with around the state. "It's the energy of the people, the attention to detail, the quality of events," he said.
Eric Glasgow, owner of Grey Barn in Chilmark, spoke about organic farming. "It is a system that necessitates building a healthy ecosystem," he said. "Something that is fundamentally sustainable." He noted that the labeling law in Vermont does not apply to dairy and meat products, and that the best way to avoid eating GMOs is to eat organic.
Mr. Glasgow was less opposed to genetic modification itself than to the industrial agricultural system it supports. He noted the potential of biotechnology to address problems like vitamin deficiency in poor countries. But he believed GMO labeling would provide more information for consumers and "allow the market forces to act."
Ms. Buhrman also encouraged people to eat organic, but pointed to some lapses in organic standards. Some facilities have up to 1 million chickens, she said, each vying for a 16-inch space. She said that the watchdog group Cornucopia has found 14 organic farms that were in violation of organic standards.
"These practices are undercutting our farmers," Ms. Buhrman said.
Megan Ottens-Sargent, who also helped organize the Farmer's Brunch and has been reaching out to legislators, businesses and donors to support the new bill, hoped the local discussion surrounding GMOs would continue.
"We haven't figured out what the impacts are," she said. "So let's label it so we have a choice."
More than 325 businesses, farms and other groups have signed on to the state labeling campaign. And during the last legislative session, Massachusetts Right to Know helped generate more than 40,000 comments and signatures in support of GMO labeling. Mr. Dagoberto said the proposed bill, with the support of 154 out of 200 legislators, is currently the most popular bill in the statehouse.
"The market is shifting," he said.