A late 18th-century home has been on the move in Edgartown.
The historic Warren house, which usually fronts North Water street beside the Edgartown library, has been temporarily relocated to the back of the lot, which is one-third of an acre, as part of a major restoration effort. Contractors have moved the house as they prepare to install a new foundation.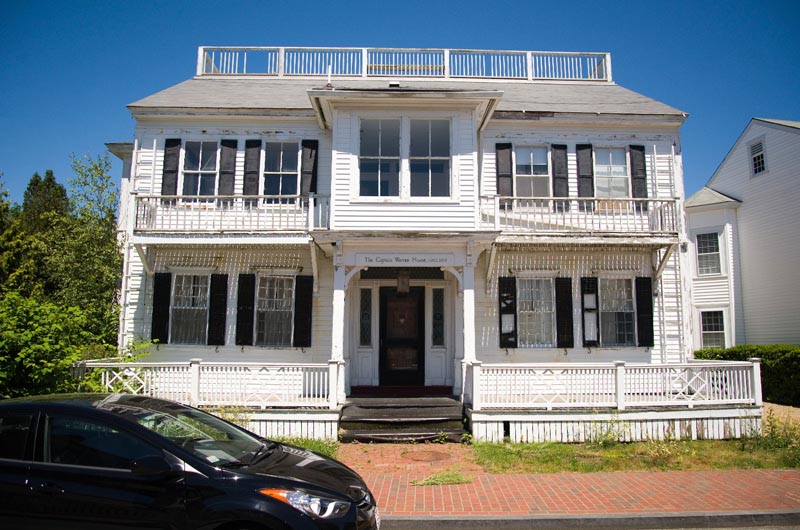 The circa-1792 house had fallen into a state of disrepair. Chestnut Hill resident Jeffrey Wolk bought the property two years ago from the town of Edgartown for $2.5 million, and he has said he is committed to restoring the historic character of the home. To that end, the front will retain its iconic white color, accented by black shutters, and will return to use as a single-family home.
According to plans submitted to the building inspector, the facade will retain its original aesthetic and street-side position but will be moved 20 feet to the left. Contractor Paul Ulyatt said that beyond the exterior, the historic window sashes and trim, the interior stairwell, newel posts and balusters will also be preserved.
The town zoning board of appeals has also authorized a plan to reconstruct a widow's walk overlooking the Edgartown harbor.
The size of the building won't be significantly altered in construction, though plans include removing a rear addition, and replacing it with a horseshoe-shaped addition.
When complete, the home's living area will total 7,826 square feet.
As part of the building permit application, Mr. Ulyatt estimated that the construction would cost $3.4 million. Mr. Ulyatt told the Gazette said the work is expected to take one year and eight months.
The home was once owned by the Osborns, an Edgartown family with connections to the whaling industry. Caroline Osborn, born in 1823, married Frederick Warren and inherited the house. She also provided the land for the Carnegie library next door, which will relocate to a site next to the Edgartown school in the fall, after more than a century downtown.
Library expansion plans first targeted the Warren house site, and in 2004, the town bought the property for $3.5 million.
But when the historic district rejected plans to demolish it and plans to use the house for a library expansion fell through, voters authorized a bid to sell it.