Bob Eugley has seen a lot of lighthouses in his life.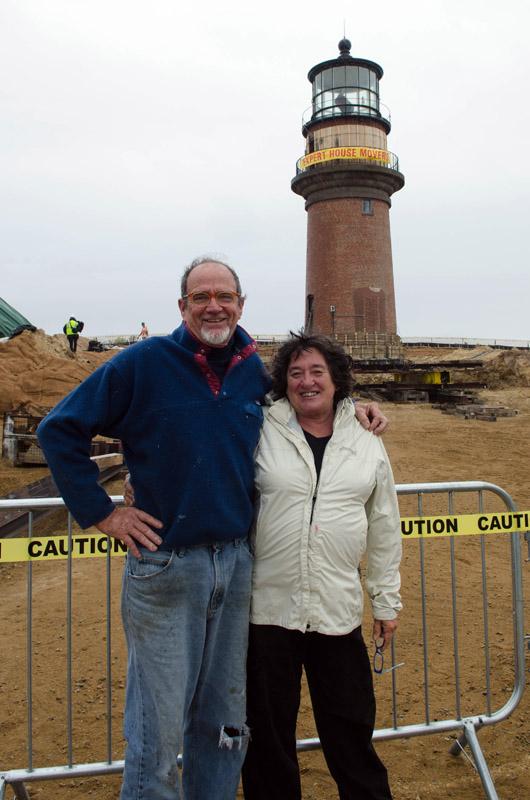 He's visited 243 of them over the years, from the lighthouses of Maine, where his grandfather was a lobsterman, to the Peterhof Lighthouse in Russia.
But before this week, he'd never seen one move. That changed Thursday, when he stood about 129 feet from the Gay Head Light as it was pushed, slowly and imperceptibly, away from the eroding cliffs below.
"The moves are pretty rare," he said with a detectable thrill in his voice. "Especially at this stage. You'd be hard-pressed to get any closer."
Mr. Eugley and his wife, self-proclaimed lighthouse buffs, traveled to the Island from San Diego, Calif. They stood among dozens of spectators who gathered under cloudy skies to observe the historic move. Also present were government officials, Aquinnah residents and members of the Wampanoag tribe, as well as photographers, journalists and videographers from regional and national press outlets.
Second and third graders from the Chilmark School were on the scene first thing Thursday, just as the clouds above broke into an uncomfortable drizzle.
They stared wide-eyed at the 400-ton lighthouse suspended above the ground, and peppered lighthouse keeper Richard Skidmore with questions they had written down on lined paper.
"In the future, do you think you will have to move the lighthouse again?" Yossi Monahan wanted to know.
Hopefully not for another 100 years was the answer.
Then Mr. Skidmore asked the children his own questions. Why move the lighthouse in the first place?
"If you don't, it will fall off the cliff and into the water," Clara Athearn said simply.
By the time the adult press conference began at 11:15 a.m., the steady rain had stopped and workers had laid steel tracks in front of the lighthouse. Members of the press stood with their cameras fixed on the lighthouse, while a channel four helicopter circled overhead. Nearby, below a rubber cone, stood a small nail that marks the center of the lighthouse's final resting place, 129 feet from its starting place.
Several onlookers removed the cone to see it, and even snap a photograph or two. Then just before noon, the lighthouse began the slow journey toward safety.
Dating originally to 1799, the Gay Head Light was the Island's first lighthouse. During the peak of the whaling trade during the 19th century, it performed an important navigational role, guiding ships through what was then a busy but perilous shipping lane.
Jim Cardellino, a merchant marine on commercial ships, said he knew firsthand the importance of the lighthouse.
"It keeps you from the shoals of life, so to speak," he said. "It's a guiding light home."