Just before noon on Thursday, the Gay Head Light departed the spot where it has stood for 159 years. The Island's oldest lighthouse is now headed for its new home about 175 feet from the eroding clay cliffs.
With press and cameras looking on and helicopters and drones overhead, the move began at about 11:50 a.m. under the direction of Expert House Movers and International Chimney Corporation. The lighthouse moved about five feet before a lunch break and then resumed its slow journey to the new location.
The brick-and-mortar lighthouse stands within an enormous excavation, balanced on a 100-ton steel frame and rolling almost imperceptibly along two massive steel beams toward a large concrete pad 129 feet to the east. Workers rubbed soap on the steel beams, and the wind was steady from the south on a cool, damp day with some rain and drizzle.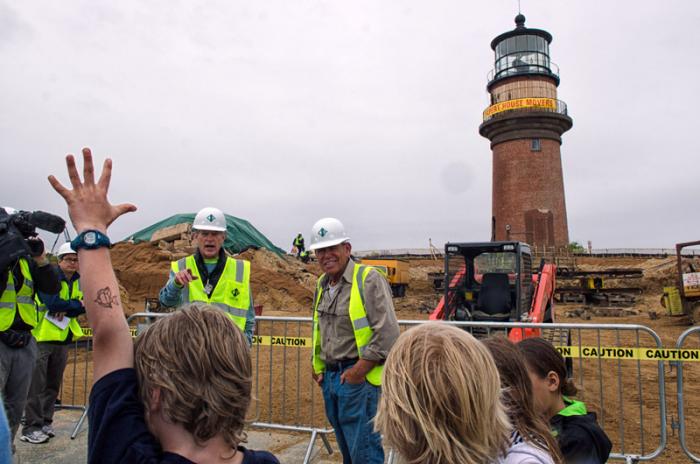 In a sudden change of plans this week, the Gay Head lighthouse committee announced that the move would begin 14 days ahead of schedule. Project managers now expect the lighthouse to reach its destination this weekend.
Only five workers were on site Thursday, and that is likely all it will take to complete the move, said Expert House Movers owner Jerry Matyiko. On Thursday morning Mr. Matyiko sat in an orange Kubota, cigar clenched in his teeth, lifting the 50-foot travel beams into place.
About 30 people, including filmmakers and members of the press, had gathered atop the concrete pad under a cloudy sky Thursday to watch the first few feet of the move. The movement itself is nearly imperceptible, except for the mechanical whirring of a generator and the hiss of pneumatic pumps.
The project will continue long past the move, with foundation work, landscaping and renovations still to come, but the 129-foot journey has attracted broad attention. At least three filmmakers were onsite Thursday, along with several reporters and photographers. Time-lapse cameras and webcams were positioned around the site, with a drone and two helicopters circling during the afternoon.
Earlier in the day, second and third graders from the Chilmark School visited the site in a drizzling rain, marveling at the mechanics of the move and asking questions. Students will continue to visit on Friday, and public viewings are scheduled for Saturday from 10 a.m. to 4 p.m.
View more coverage of the lighthouse move, including webcams.