The Martha's Vineyard Regional High School boys' baseball team qualified for the state tournament on Friday by earning a 2-1 victory against Triton in Newbury.
"We had an interesting time getting there," said head coach Gary Simmons. "We showed up for the boat in Vineyard Haven only to find out it hadn't yet left Woods Hole."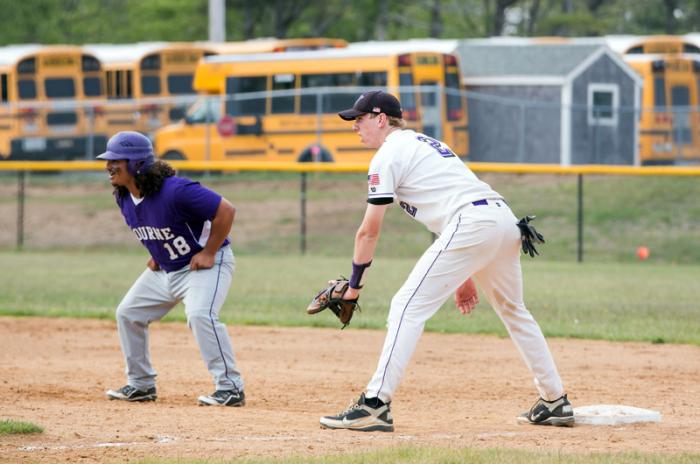 The team was then sent to Oak Bluffs to catch a freight boat but it was at capacity, leaving them stranded.
"We were standing on the dock at Oak Bluffs and agents told us that the Island Home was pulling into Vineyard Haven, so we rushed back there and got on the 12:45 boat," said Coach Simmons.
The boys departed Woods Hole by bus at 1:30 p.m. and arrived at Triton 30 minutes past their scheduled 4 p.m. start time. Nevertheless, they pulled off a victory, with senior captain Tim Roberts pitching all seven innings of the game and giving up just a single run.
"We've pitched really well at times and Friday's game was a good example of that," said Coach Simmons. The win bumped their record up to 10-10, earning them a spot in the first round of the Massachusetts Interscholastic Athletic Association tournament. The Vineyarders qualified for the tournament by a narrow margin: teams have to win at least 50 per cent of their games.
Friday's win came on the heels of a tough loss at the Vineyard's last home game of the season on Thursday against Bourne. A pre-game ceremony took place during which parents of seniors were honored by throwing out first pitches to their sons. Each senior had written a note to his parents, thanking them for their support and encouragement. One such message read: "Thanks for always cheering for me whether I gave up three runs or struck out the side."
Jack Slayton, a senior who had sat on the bench all season due to an ACL tear, took the field for the first play of Thursday's home game. "I wanted him to have a moment and let him walk off the field one more time," said Coach Simmons.
Seniors included Tim Roberts, Henry Gallagher, Jack Slayton and Mike Mussell, all of whom will play in their first state tournament since their freshman years.
"It's a nice way for them to round out their high school baseball careers," said Coach Simmons.